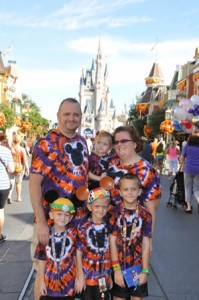 Greetings! Welcome to my page. My name is Alyssa Maisano and I am a travel planner whose goal is to provide you with the best level of service to make your vacation the most memorable experience. I am a graduate of the Disney College of Knowledge as well as an expert in Disney Destinations including Disneyworld, Disneyland, Disney Cruise Line, Adventures by Disney, and the Aulani Resort in Hawaii. I am also well versed in the Universal Parks and Resorts as well as Sea World Parks.
I will share my knowledge of Disney with you and guide you each step of the way. Having worked at Disney World while studying in College as well as the Disney Store for over 4 years, I am very familiar with the company brand and it's ideals. Questions about Dining, which Fast passes to get, traveling with small children are all things I can assist you with when planning your vacation.
A little about me
I live in Fort Worth, Texas. I have 4 kids, all ranging from 2-8 years old. I am a photographer as well and have my own business doing very well for the past 5 years. My favorite park is Magic Kingdom. I worked Parades and on Splash Mountain during my internship there in college.
Favorite Place to eat: Ohana's it Disneys' Polynesian Resort
Favorite Movie: Peter Pan
Favorite Character: Ariel
The list goes on and on and the memories are all more in the making. I hope to help you make some memorable times with your next vacation. Until then, see you real soon!
Contact Info:
Alyssa Maisano
email: alyssa@kingdommagic.com
Toll Free: (866) 972-6244 ext 788
Text/Call Direct: (321) 328-7318