Last week the Disney Wonder celebrated her 12 year on the sea. We though we would give you a look around the ship as well as some entertaining facts about one of the most beutiful cruise ships in the world.
Disney Wonder is the second ship in the Disney Cruise Line fleet, joining the Disney Magic (maiden voyage in 1998) before the Disney Dream (maiden voyage in 2011) and the Disney Fantasy (maiden voyage March 2012).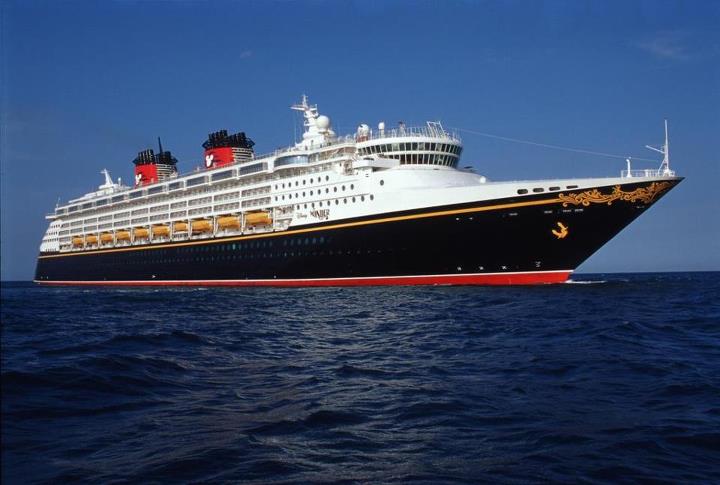 Birthplace
Fincantieri – Marghera, Italy
Maiden Voyage
August 15, 1999
Home Port
Los Angeles, Calif.
Ship's Registry
Bahamas
Tonnage
83,000 gross tons
Length
964 feet
Beam
106 feet
Draft
25.3 feet
Height
171.5 feet
Speed
21.5 knots cruising speed (maximum 24 knots)
Crew
950
Passenger Decks
11
Capacity
2,713 passengers
Staterooms
877
256 Inside Staterooms (29%)
621 Outside Staterooms (71%)

259 ocean view
362 verandah (includes 22 suites)
Itineraries in 2012
Seven-night Mexican Riviera cruises departing from Los Angeles
Seven-night Alaska itineraries departing from Seattle
Seven-night Pacific Coast cruises departing from Los Angeles
Fourteen- and fifteen-night Hawaii cruises departing from Los Angeles
Main Public Areas
Atrium Lobby – Deck 3 (atrium spans three decks)
Walt Disney Theatre (977 capacity; live original productions) – Deck 4
Buena Vista Theatre (278 capacity; motion pictures) – Deck 5
Preludes theatre concessions – Deck 4
Shutters (Capturing Memories) photo gallery – Deck 4
Guest Services – Deck 3
Port Adventures – Deck 3
Family Areas
Studio Sea – Deck 4
Wide World of Sports deck – Deck 10
Goofy's Pool family pool – Deck 9
Mickey's Pool children's pool – Deck 9
Mickey's Splash Zone water-play area – Deck 9
Quarter Masters Arcade – Deck 9
Radar Trap retail shop – Deck 3
Treasure Ketch, Mickey's Mates retail shops – Deck 4
Youth Areas
Flounder's Reef Nursery – Deck 5
Disney's Oceaneer Club – Deck 5
Disney's Oceaneer Lab – Deck 5
Vibe teen club – Deck 11
Edge tween club – Deck 2
Adult Areas
Route 66 – Deck 3

Diversions
WaveBands
Cadillac Lounge
Vista Spa & Salon – Deck 9
Quiet Cove Pool – Deck 9
Outlook Café – Deck 10
Cove Café – Deck 9
Signals – Deck 9
Promenade Lounge – Deck 3
Dining
Parrot Cay main dining (471 capacity) – Deck 3
Animator's Palate main dining (471 capacity) – Deck 4
Triton's main dining (471 capacity) – Deck 3
Palo adult-exclusive fine dining (120 capacity) – Deck 10
Beach Blanket Buffet casual dining – Deck 9
Pluto's Dog House, Pinocchio's Pizzeria, Goofy's Galley quick service – Deck 9