If you've followed me at allinwdw.com for any measure of time, you know that my entire family loves Disney's Coronado Springs Resort.  Frankly, from our view, for the price, it is one of the best places to stay at Walt Disney World Resort.  It is clean, NOT crowded (as much as you might fear it is – given that it is a conference resort), and the people working there are top-notch.  Well, we also love their lake-side watering hole – Laguna Bar.
One of the things I tell people is that I fell in love with Walt Disney World many years ago because of the Cast Members.  As a young family, with one 2nd grader in tow, we were taking our very-first BIG vacation.  The staff at Coronado Springs made us feel like we were the only guests visiting Walt Disney World, and they made us want to be a PART of the magic.  What more can you ask for when you're handing Mickey your hard-earned dollars?  Well, the bartenders at Laguna are prime examples of great service.
The Laguna Bar sits directly behind El Centro – the Southwestern U.S./Mexican-themed resort's main (central) building.
It is a small establishment, but, for us, it packs a large "punch" in the form of hours of enjoyment.  It's our vacation, after all, and what does one do on vacation but relax?  Oh, we love the theme parks, don't get us wrong, but sometimes we just want to sit around and chill.  Laguna Bar is an ideal spot.  A cold beverage of any variety, enjoyed by Lago Dorado (the man-made lake at the heart of the resort) takes us to a very happy place.
Food options at Laguna Bar are a bit limited, but Coronado's Quick Service food court – Pepper Market – is just a short stroll away.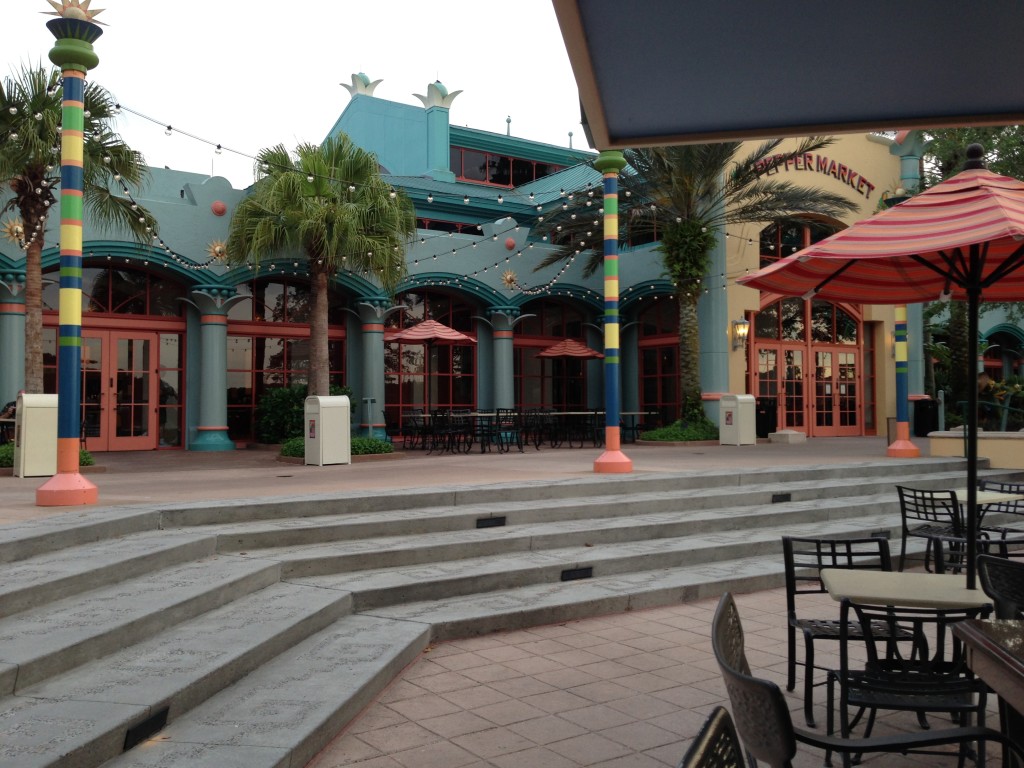 If you'd like to stick around and keep your seat, however, Laguna sports a new menu.  With cuisine supplied by Cafe Rix, they have expanded their options to include nine salad and sandwich items as well as four "kids" meals and two desserts.  The former menu offered choices from amongst only two salads, three sandwiches, and two recipes of individual pizzas.  A big improvement!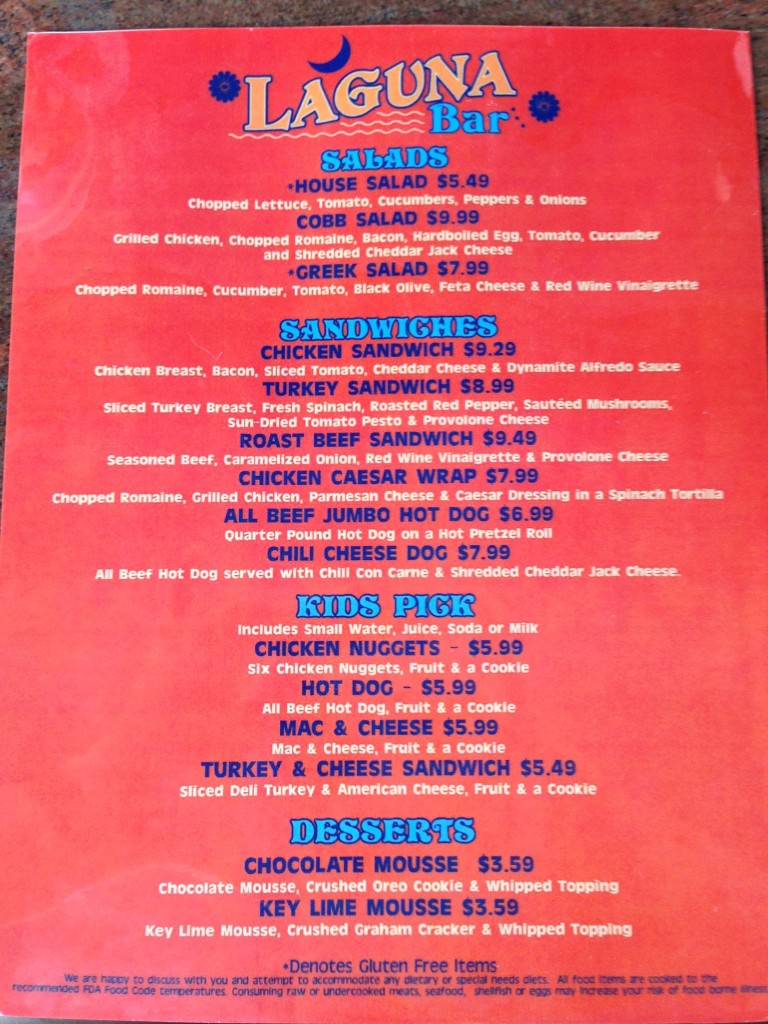 We had the Cobb Salad and the All Beef Jumbo Hot Dog.  The salad was fresh and very filling.  Accompanied by your choice of chips, the "dog" was a hearty little meal!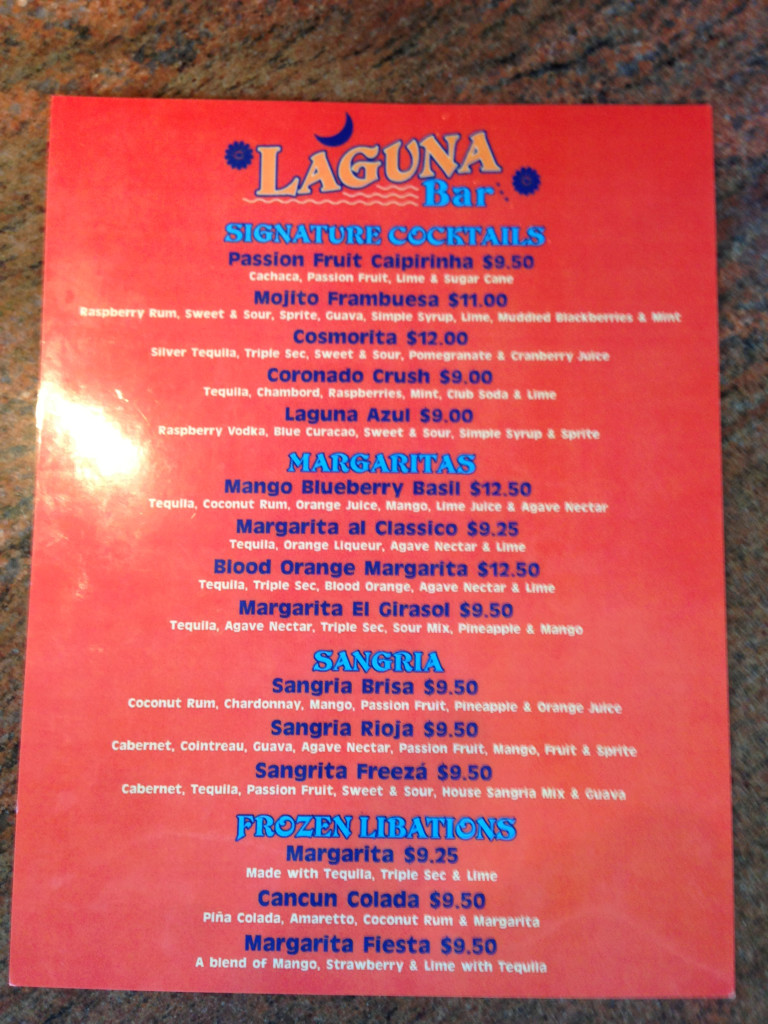 You'll love their signature cocktails. The Cancun Colada is especially tasty!
Whether you are buying a beverage or looking for a place to enjoy "take-out" from either Pepper Market or Cafe Rix, there's plenty of seating.  For us, though, we enjoy a spot at the bar.  It is there that we can enjoy the company of Laguna's outstanding staff of bartenders.
If you're looking for a surprisingly quiet, clean, moderately priced place to call home when you reach Walt Disney World, we would highly recommend Disney's Coronado Springs Resort.  If you're looking for a place to sit back, relax, and chill in the presence of friendly Cast Members and a beautiful view, then visit Laguna Bar.
The Three Caballeros request your presence!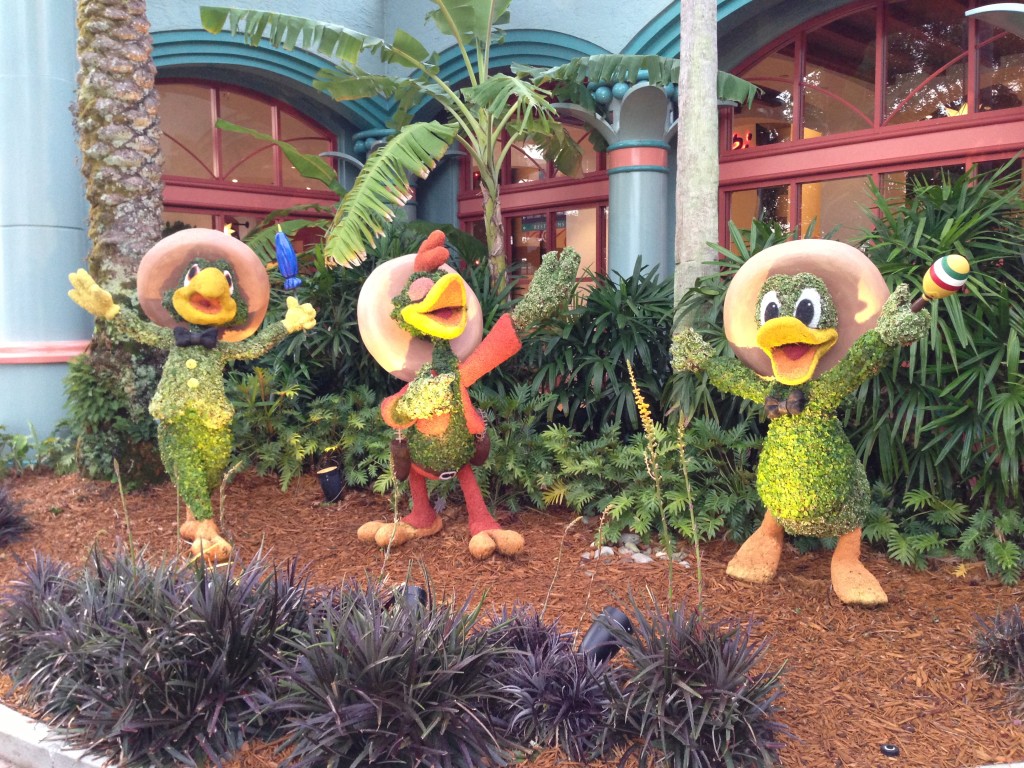 ---
Guest Author – Bob Sikon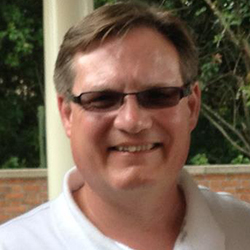 Bob Sikon is a Cast Member "Wanna-Be". He fell in love with Walt Disney World on his first visit to Mickey's Florida home in 1999, and it was all because of the Cast Members. In his words, "The way they take care of you, they make you want to be part of The Magic." Someday, his dream will come true, and he'll proudly wear a Cast Member name badge, but, for now, you can find him in Atlanta, GA, planning his next trip to "The World", and blogging about the place "Where Dreams Come True" at allinwdw.com.