For 27 select nights beginning September 20, Universal Orlando's Halloween Horror Nights returns as the nation's best and most intense Halloween event. Guests will confront extreme Halloween entertainment that cannot be experienced anywhere else.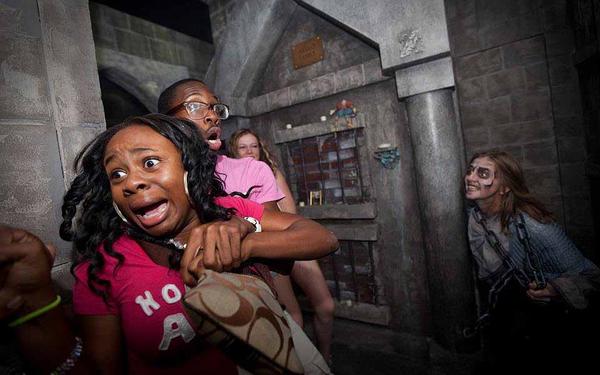 Halloween Horror Nights is Universal Orlando's annual Halloween party, and it is one of the most popular events in Orlando. Especially if you're a fan of horror films, this is a 'don't miss' event for those looking for something a little edgier than Disney. For 25 nights this fall, Universal Studios Florida will be home to all-new haunted houses, street experiences, hundreds of frightening "scareactors" and live shows. Guests will be immersed in the horrors of years' past and introduced to brand-new frights.
These are usually temporary structures set up specifically for the event (although, in the past, certain attractions have been converted into haunted houses for the event). Each of the houses is themed differently. As you walk through the attraction, any number of things or people are likely to jump out at you. Don't worry, they won't ever touch you, but they come pretty close. Instead of the scare zones of the past, this year there will be street experiences – the horror will come to you.  Everywhere you go, you will encounter The Legions of Horror, creatures who have escaped from an ancient buried cemetery.
The 2013 Haunted Houses
Resident Evil: Escape from Racoon City – Raccoon City is overrun with Umbrella Corporation's most terrifying experiments, and the only option is complete destruction. You'll need to duck and dodge Lickers, Hunters, and Nemesis himself if you want any chance of escaping Capcom's video game terrors before missiles send everything back to hell.
An American Werewolf in London -Based on the John Landis horror classic, you'll travel to the Slaughtered Lamb, experience the gruesome wolf attack on the moors and live the chaos of Piccadilly Circus. Beware the moon because tonight it brings only death.
The Walking Dead –Walk in the footsteps of the survivors as Season 3 of AMC's horror hit relentlessly attacks you from all sides. Stay alert—walkers could trap you anywhere along your journey from the town of Woodbury to the claustrophobic confines of the derelict prison.
Havoc 2: Derailed -Hang on tight aboard a militaristic train convoy that's secretly transporting the "Dogs of War" — a genetically engineered super-soldier outfit. These bloodthirsty maniacs are bent on mayhem and destruction, with their sights set on twisting the metal of a speeding train. This is Havoc!
Afterlife: Death's Vengeance-Serial killer Bobby "The Blade" is about to meet Ole' Sparky. 2000 volts are going to send him to a horrific realm of pain. His victims have waited an eternity for vengeance. They're bound to turn Bobby's afterlife into an unimaginable, infernal torment.
Urban Legends: La Llorona -She is known as the weeping woman. Her legend is one of tragedy… and of murder. She drowned her children in the cold, watery depths and now torments all who hear her with icy, mournful cries. Forced to walk the earth for eternity, she seeks others to share her pain and suffering, now and forever.
Evil Dead -Relive "The Most Terrifying Film You Will Ever Experience" as gruesome Deadites try to possess your soul. There is nowhere to hide as every creaking floorboard and tangled vine is just waiting to pull you down, making you one with the Evil Dead.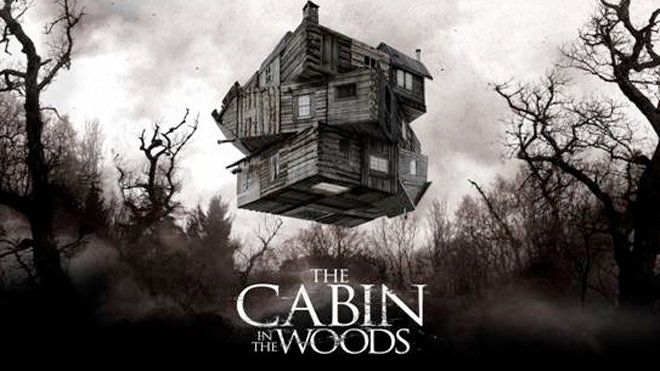 The Cabin in the Woods – Experience a live recreation of the film that ripped the horror genre inside out. Beneath the cabin's rustic appearance lies a secret facility that unleashes terrifying beings that you thought only existed in nightmares.
Street Experiences – AMC'S The Walking Dead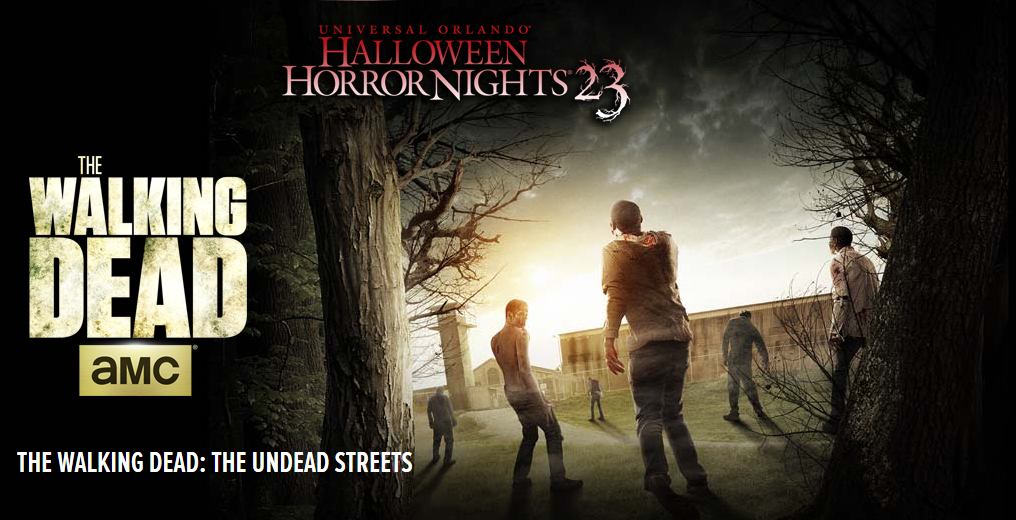 AMC's The Walking Dead has overtaken the streets of Universal Studios. From Atlanta to the forests and into Woodbury, you'll have to fight your way through some of the most iconic locations in the show if you want to survive the night.
The Fall of Atlanta – The smell of death is in the air as you make your way past an iconic tank, sandbag barriers, and decayed rotting corpses on your journey through this decimated city. But be warned—the city's not empty.
Woodlands – 

Tread carefully through these woods, as you never know who you might encounter. Lurking deep in the hidden depths are unforgettable scenes and characters from Seasons 1, 2 and 3.
Survivor's Camp – 

There's no one telling ghost stories at this derelict campsite, but there are plenty of undead. Will you dare to go closer to the eerily abandoned RV? Keep your wits about you or you might become a ghost story yourself.
The Farm – 

Something's burning and it's not a Sunday roast. Gasoline fumes ignite your senses as you encounter the smoldering remains of a singed country farm. See and smell the putrid barn, the red tractor, and more as you learn what's causing that horrifying stench.
Clear – 

Turn around and live—proceed and face your fate. Stick together as you head down this street, because the spiked barriers are there for a reason. If you refuse to heed the spray-painted warnings, you're in for a terrifying walk that will feel like an eternity.
Live Shows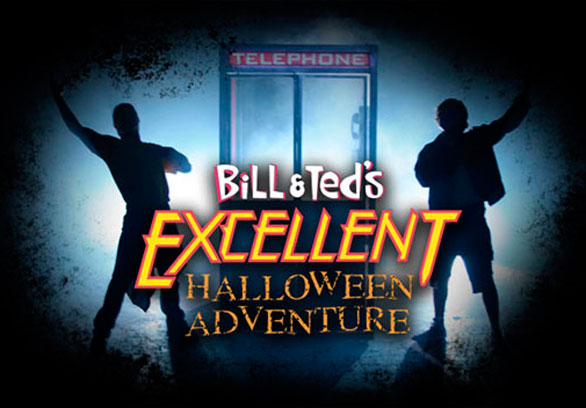 Bill & Ted's Excellent Halloween Adventure – Party on as those two most excellent dudes return to skewer the biggest names in entertainment and pop culture.
The Rocky Horror Picture Show: A Tribute – Let's do the Time Warp again! Rock out to clips from the classic cult film with your favorite Transylvanians, live tribute performers, and audience participants.