I have never been much of a haunted house fan, but when I got a chance to experience Universal Orlando's Halloween Horror Nights, I was both excited and a little bit nervous.  To be honest, I was a LOT nervous.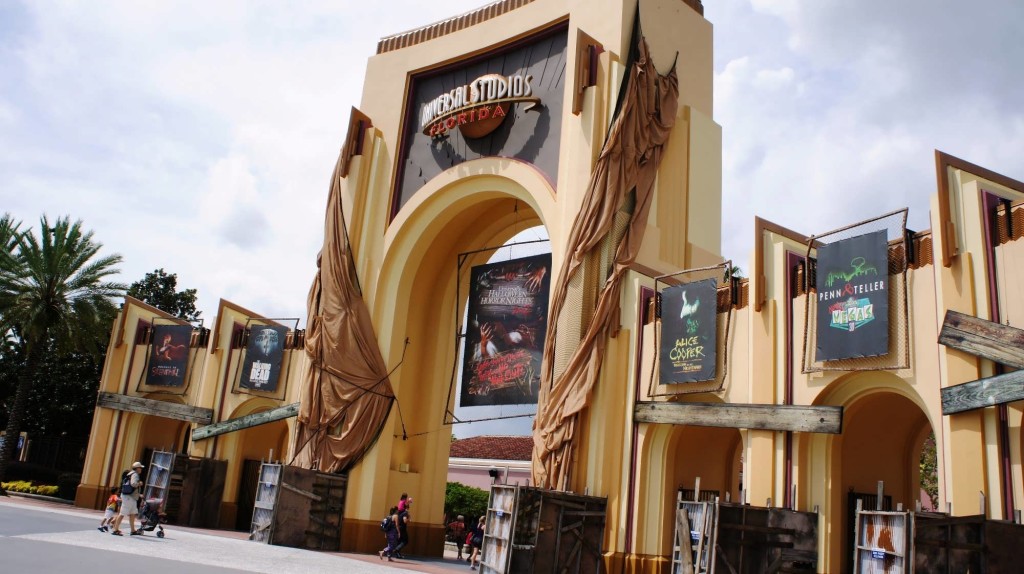 In the interest of full disclosure, I was personally invited to a VIP Event by Universal Orlando and I was treated to an incredible evening of food, drink, and more than my fair share of chills and thrills.
Once we arrived at Universal Orlando we were escorted to a VIP staging area where we joined our other intrepid adventurers until it was time for us to venture out into the park and survive not only the houses themselves, but also the street walkers.
This year, the entire park was transformed into a not-so-living nightmare from AMC's The Walking Dead.  Dozens of zombies walked all over spooking and scaring passers by who were often not paying enough attention to see them coming.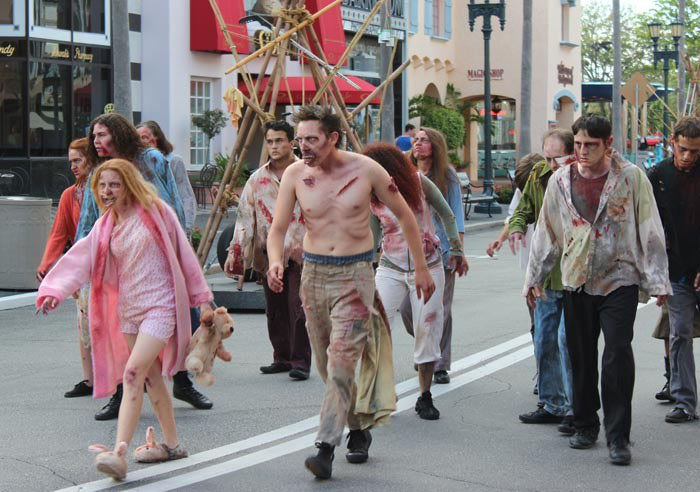 And then we arrived at our first house, based on the movie The Evil Dead movie re-make, where we were encouraged to "relive 'The Most Terrifying Film You Will Ever Experience' as gruesome Deadites tried to possess our souls."  It was terrifying and amazing all in the same breath.
Next was  The Cabin in the Woods house where several of our nightmares came to life.  I was a fan of this movie and actually looked forward to this house…with much trepidation.  And it was incredible.  The last half of the house was based on the Control Room – the last 5 minutes of this house are not to be missed…if you can keep your eyes open that is.
My next favorite house was based on the the classic horror film "American Werewolf in London".  Universal actually brought in some of the original creature creators from the movie and you can tell.  The werewolves are unbelievable.  They are scary, but at the same time, beautiful.  They were very life-like and much more malevolent that you would expect.
Next came the house based on the movie Resident Evil and like the title states, evil resided in this house.  It was a mix of creepy monsters and killer sci-fi.  My favorite section was about 1/2 way through the house.  The Resident Evil movie franchise is based off the video games of the same name.  One of the sub-rooms in the house simulated the game player pressing pause.  It was terrific!  There was so much going on in all these houses that you could not see it all, and in this house there was a ton going on!
And this was just the half way point.  Time for a much needed break.
After a relaxing respite from the ghosts and ghoulies,  it was time to head over to the back side of the park to experience AMC's The Walking Dead, Urban Legends: La Llorona, AfterLife, and Havoc 2: Derailed.  These houses were smaller but still packed quite a scary punch.
My favorite house of these four was Afterlife.  They incorporated a 3-D element into this house and was less scary than it was really funky-cool.  There were several elements that were just incredible to look at…but there were also some truly scary moments as well.
After these houses we enjoyed another break while we waited for Bill & Ted's Excellent Halloween Adventure where we were invited to "party on" as those two most excellent dudes return to skewer the biggest names in entertainment and pop culture.
While this type of event might not be for everyone, it is an experience that you should at least attempt.  The houses are not a horrific as you might think, so if you are worried that you can't handle it, you might be selling yourself a little short.  But remember that all of the rides and attractions are still running throughout the park, so you can still enjoy your night at Universal Orlando even if you don't enjoy the haunted houses.