The weekend really started once we headed over to ESPN Wide World of Sports to pick-up our packets on Friday, November 8th.  I'm a huge fan of picking up my packet the day before the race…I like the time to digest any additional information they provide, stroll the expo and generally just take it all in without having to worry about being on my feet the day of the race.   I make it a point to avoid the expos right at opening…there are usually long lines…so we arrived about 2 hours after opening at noon.  We breezed through parking at ESPN Wide World of Sports, not even having to park on the grass, which is unusual and headed into the Expo.  If you were staying at a Host Resort at Walt Disney World, you had bus transport, but we were at Bay Lake which wasn't a Host, so drove ourselves.
As with any of the larger races that RunDisney does the area to pick-up your bib / packet and the Expo itself are separated into 2 buildings.   As we headed in to packet pick-up we realized that we had left our race waivers at home…a slight lapse of memory on my part when packing.  runDisney makes it very easy to print your waiver there and that's what we did.  They had set up computers in the middle of the floor there that you could literally walk up to, type in your name and birthdate and your waiver printed.  Painless and efficient….a definite plus.  Heading into the lines to pick-up the bibs some people had shorter lines than others, but the volunteers were doing a good job of keeping things going.  I really think that waiting a couple hours to attend made all the difference for us, the crowds were very low and it was great.  If you wanted, there was an Official Race Merchandise area to shop…which I did…it's usually less crowded.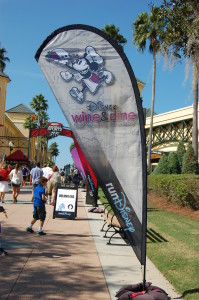 It's nice that you no longer have to activate your bib by walking across the strip…that used to be something that you definitely had to remember to do at the Expo otherwise they wouldn't be able to track your time.  Kudos to runDisney for simplifying the process and not making us do that now.  Although some lines were longer than others we got through packet pick-up in about 10-15 minutes and then headed over to the Josten Center for the Expo portion and to retrieve our race shirts there.  It was a bit more crowded over there…but not unbearable like some years have been.   The longest line I saw was for family members that had purchased party only tickets and needed to retrieve those…the line was winding around outside and people were getting grumpy.
I browsed some of the vendors after retrieving my shirt.  I always love checking out the medals for upcoming races at the runDisney booth.  We spent about an hour at that portion of the Expo before heading back to Bay Lake Tower to relax for a bit.  The only snafu of the day came when we tried to do runner tracking at the Expo…some people were logging into their personal accounts on the computers and not logging out…so if you didn't check, a stranger might be tweeting out your times depending on what way you were selecting to have your times published.  We opted to do the runner tracking from our phones on our own and forgo having to be sure that no one else was logged into the computer we were using.  Stay Tuned….Race Day will be coming tomorrow!  For More Race Photos check out: Kingdom Magic Runners
---
Guest Blogger – Carrie Bryniak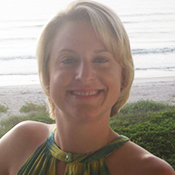 I am your friendly Travel Professional with Kingdom Magic Vacations and a runner as well.  My first RunDisney Race was in 2010, the Wine & Dine Half Marathon Relay…and since then I've been hooked on Disney races and others.  Some of my favorites are the Wine & Dine Half Marathon, the Turtle Krawl 5K and the USA Beach Running Championships.  If you're a runner and you need help with travel plans for a race, don't hesitate to contact me!  I'm here to help you and support your efforts!