Entertainment on Quantum of the Seas will be the "complete package deal," similar to what you'd find in Las Vegas, said ship godmother Kristin Chenoweth during a live Google Hangout broadcast from the Bellagio hotel there. Alongside Nick Weir, vice president of entertainment for Royal Caribbean International, Chenoweth revealed some details of what entertainment cruisers can expect when Quantum launches in November of this year.
Here are highlights from the Google Hangout –
Entertainment will center around three main venues: Two70, the Music Hall and Royal Theater.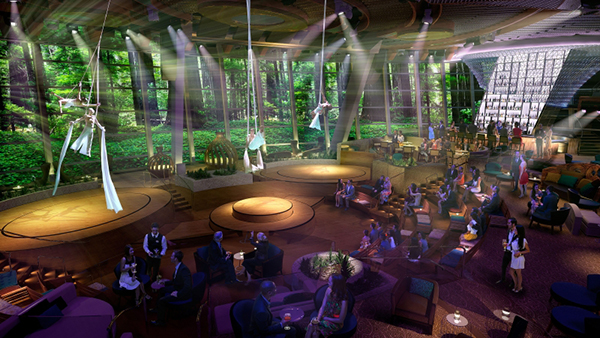 Two70
Taking what Royal Caribbean calls a "futuristic" approach, the 450-seat Two70 will pair advanced technology with dancers, singers, aerialists and musicians to deliver a series of shows that Weir and Chenoweth had a difficult time describing. Instead, they showed a visual mockup that merges the vibrant animation of Avatar with the artistry of Cirque du Soleil.
The visuals will appear via a floor-to-ceiling window of digital screens over 100 feet wide and 20 feet tall that will be able to create any scene, real or imagined. Combined with these will be six moveable Roboscreens, which measure seven feet high and can twist and turn.
The 270-degree nature of the venue will enable audience members to feel like they're part of the performance, Chenoweth said.
In addition to the special effect- laden main shows, like Starwater (which Weir admitted is still in the creation phase), that will appear in Two70, the space will also host a series of virtual concerts with "premier" musicians, groups and bands. Royal Caribbean would not elaborate on who would be performing.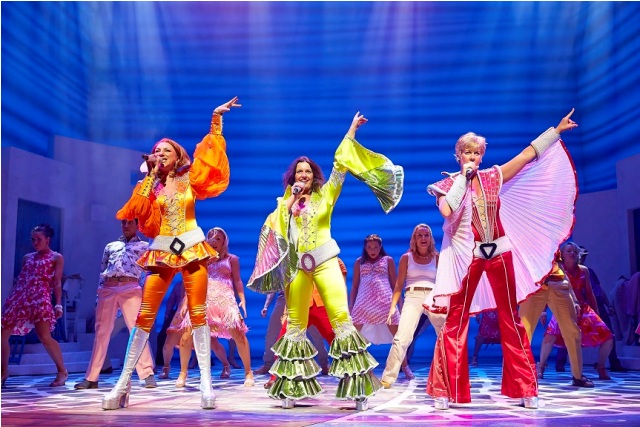 Royal Theater
In addition to the already announced Mamma Mia, Quantum of the Seas' Royal Theater will be home to one other main show, as well as 3D movies.
Sonic Odyssey is a musical show created by 2013 America's Got Talent contestant William Close that combines the ethereal music of his gigantic Earth Harp with a 136-drum Drum Wall, a Vocal Percussion Jacket and Violin Dress. The show also will incorporate singers, dancers, aerialists and gymnasts to tell a story through music and movement.
Royal Theater could also play host to special performances by artists like, say, Kristin Chenoweth herself. Though Chenoweth would not confirm it, she did say that Royal Theater is the venue she would choose.
She also joked, with a smirk, that there may or may not be a Kristen Chenoweth performance during the ship's naming ceremony.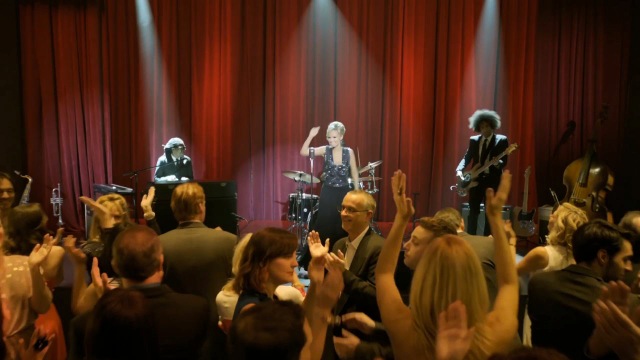 Music Hall
An intimate space that melds the stage with the dance floor, Music Hall will be the main live music venue onboard Quantum. Here passengers will find tribute bands covering the likes of The Beatles, Bee Gees, Journey and Bon Jovi; an after-the-show Mamma Mia! cast party; and Wink, a "class and sass" adults-only late night show.
All shows will be free, though Weir said Royal Caribbean is looking at opportunities to charge for exclusive entertainment offerings in the future. Weir defended the move by saying other lines are doing the same. Carnival Cruise Lines has already begun charging for some entertainment with its Carnival Live concert series.
Quantum of the Seas is the first ship in the much-anticipated Quantum Class. It will bring to the sea innovations like a sky-diving simulator, the North Star — a jewel-shaped glass capsule that extends 300 feet above the ship for 360-degree sea views — the Seaplex sports and entertainment complex and Dynamic Dining, a concept that dispatches with the traditional main dining room in favor of multiple, more flexible options.
The ship launches November 2014, sailing seven- to 12-night itineraries to the Caribbean and Bahamas, before moving to Shanghai in June 2015.
---