Hello, my name is Donna and I'm addicted to RunDisney races.  Yes, I have a problem.  I'm currently looking for a 12-step program to help me.  I knew I loved the races but I didn't know how bad my addiction was until the registration for Disney's Princess ½ Marathon Weekend opened.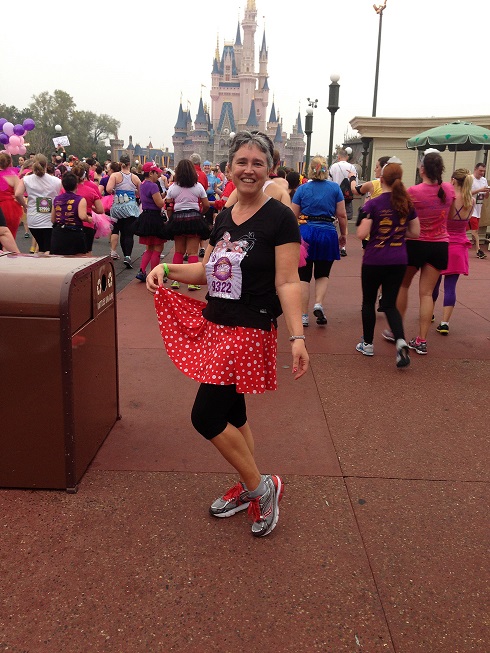 I found myself actually sitting on my hands, trying to control myself and NOT register for this race.  Here I was, sitting at my computer, watching the registration numbers go up, races booking up, watching the posts on Facebook and various blogs, clients calling me all excited because they got in and now they want to book their packages.  It would have been so easy, just enter your name, address and approximate race finish time.  I was doing all I could to control the urge.  I even had a support system of friends reminding me, don't do it, don't do it.  At the same time I was texting my running buddy Wendy, "stay strong, we can do it, it's almost full, we are almost there".  She was texting me back " I just want to log on and see how it's going." NOOOOOO I'm "Shout texting" back, "Don't do it, you'll be tempted to register".
Fortunately the Glass Slipper Challenge filled up quickly.  To complete the Glass Slipper Challenge you must finish the 10K and the 1/2 Marathon.  If we were going to go that weekend, we would only do it for the challenge.
It was a long afternoon waiting for the ½ and 10K to fill up. She signed up for a fitness class at her gym so she would be busy and I went for a walk, I just had to stop looking at the computer.  Later that night she texts me, "You know, the 5K still has slots". Evil temptress.  "No, we are NOT going that weekend" I told her.  Stay strong.  By the end of the day I was exhausted. I felt as if I had run a full marathon.
We did it!  We both made it through the day.  Now, don't get me wrong. I LOVE Disney's Princess 1/2 Marathon Weekend.  It's a wonderful weekend, the race is awesome, I love the costumes, the camaraderie and I really like the whole theme of the weekend.  The reason we had to stay so strong is because we are both running the month before in the Walt Disney World Marathon Weekend.  We are also hoping to register for the Dumbo Double Dare later in August out in Disneyland so we can get our Coast to Coast medals.  (Coast to Coast medals are can be received for completing a Half Marathon or Marathon in Disney World, followed by the completion of a Half Marathon in Disneyland during the same calendar year.)  I already have a Coast to Coast medal, but I'm trying to check off all of the Disney ½ marathons and figured that if we were going to go out for that race we may as well do an East Coast race and earn a Coast to Coast Medal.
I'm sure I'm not alone in this obsession.  Once you run your first RunDisney race, whether it's a 5K, 10K,  ½ marathon or full marathon, you will be hooked!  It's unlike any other race I have ever participated in and I'm sure will never find their equal.
Sincerely,
______________________________________________________________________________
Guest Blogger – Donna Genco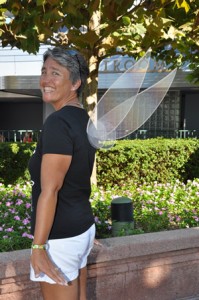 Donna is not only one of Kingdom Magic Vacations Independent Travel Planners, she is also a runner and contributor over at Kingdom Magic Runners Facebook Page. She's participated in numerous RunDisney Events from the Wine and Dine Half Marathon, Expedition Everest and more on the East Coast, but she's also been to Disneyland for the Tinkerbell Half Marathon as well.  Her passion may be RunDisney races, but she has also participated in other races as well.