Tiffins, the newest Walt Disney World Resort table-service restaurant at Disney's Animal Kingdom, will open Memorial Day weekend for lunch and dinner.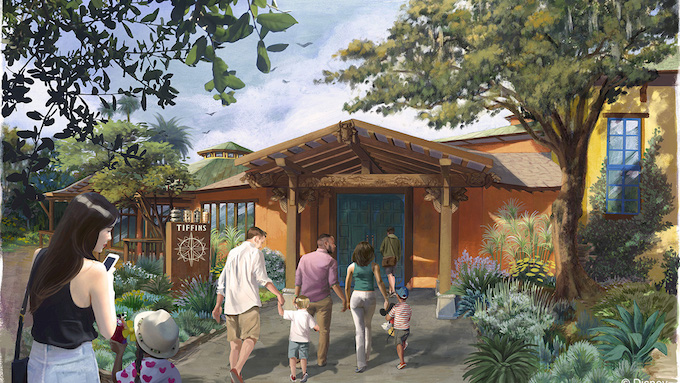 Located in the park's Discovery Island area, the menu is inspired by the world travels of the park's creators (Tiffin is the Indian word for a lunchbox used by travelers, and also the word for a mid-day meal). Walt Disney Imagineering describes the interior as "a gallery you can dine in with artwork that is a direct result of travels to Africa, Asia and South America," with tastes such as Berbere-Spiced Lamb Chop with Mustard Greens, Lentil Stew and Mint Chutney (Africa); Berkshire Pork Tenderloin with Huitlacoche Tamale, Hominy Succotash and Red Mole Sauce (South America), and Miso-glazed Black Cod with Forbidden Rice in Steamed Bok Choy with Turmeric Sauce (Asia).
Tiffins will also feature sustainable, organic wines and bio-dynamic viticulture, as well as handcrafted cocktails and beers.
No reservations are necessary in the adjacent Nomad Lounge with beautiful waterfront views. Menu items will include small bites like a vegetarian summer roll, seared Wagyu beef skewer and honey-glazed coriander-spiced pork ribs.
---