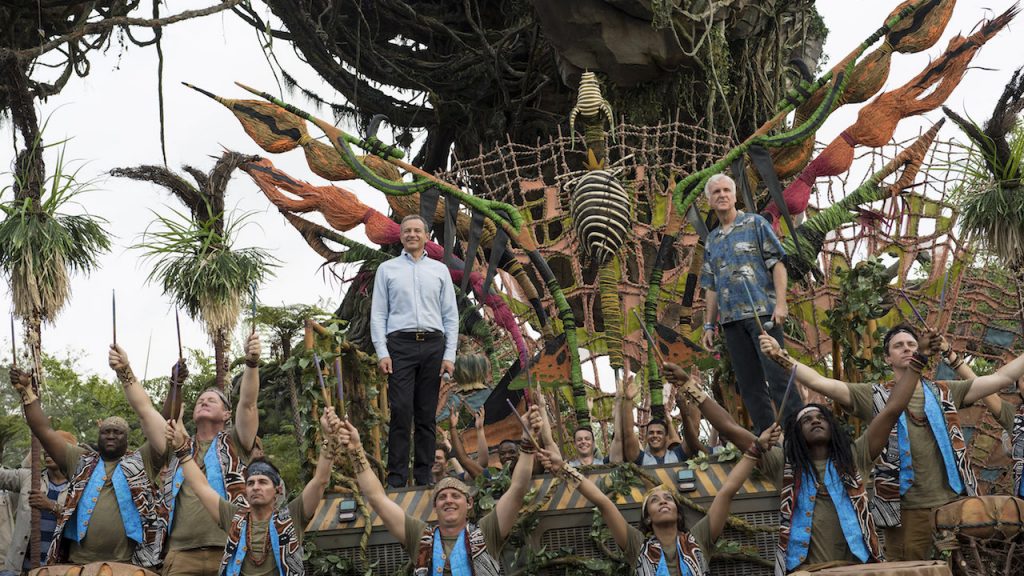 As you may have seen during Disney's LIVE coverage, Disney's Animal Kingdom hosted a special dedication ceremony for Pandora – The World of Avatar to celebrate this new spectacular world opening to the public on May 27.
At today's ceremony, held under the magnificent floating mountains of Pandora – The World of Avatar, drummers performed traditional Pandoran rhythms and colorfully-dressed performers led a procession full of pageantry and artful banners to celebrate the occasion.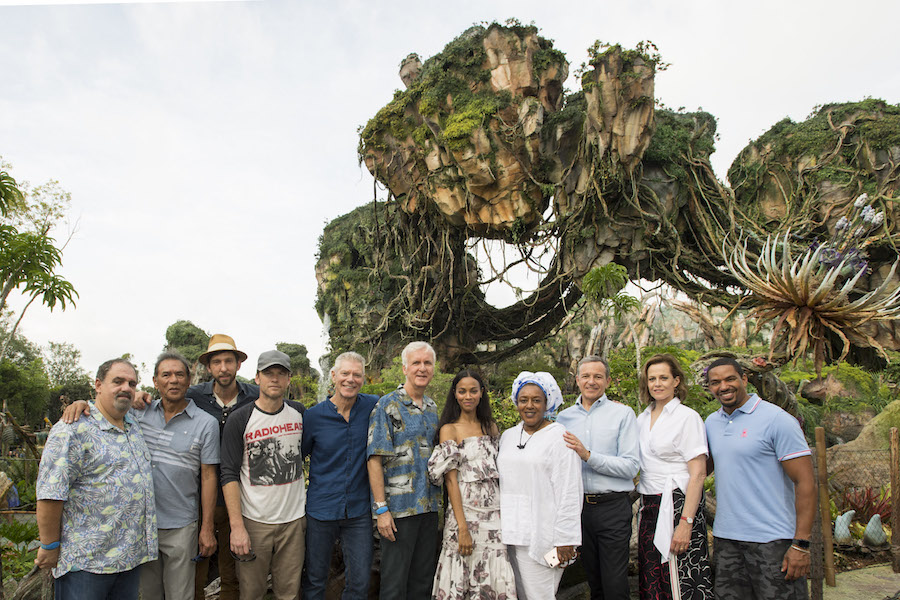 Disney Chairman and CEO Bob Iger was joined by AVATAR Creator/Director James (Jim) Cameron and members of the film's cast and crew (pictured, above) after thanking the visionaries and innovators who collaborated to make Pandora just as great in person as it is on the screen.
During the dedication, Iger also praised Cameron for doing "the impossible" again and again – merging wonderful storytelling with mind-blowing technology to create experiences no one has encountered before.
"Working with Jim and his team was a dream come true for us, as we pushed the limits of creativity and innovation to bring the digital world of Pandora to the real world of Disney's Animal Kingdom," Iger said. "And now everyone, including me, who has ever dreamed of visiting this extraordinary world can explore the astonishing landscape and ecosystem, see the Na'vi, soar on the back of a banshee and become part of the AVATAR adventure."
Beginning on May 27, guests visiting Pandora – The World of Avatar will be able to explore a new world of rainforests pulsing light and experience breathtaking flights soaring above an alien moon on the backs of winged banshees. Let us know what you're looking forward to in the comments below.