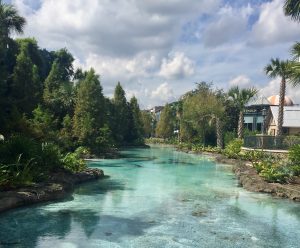 Disney Springs (formerly known as Downtown Disney) has recently expanded and welcomed many exciting new additions. Disney Springs has become a hotspot for entertainment, shopping and some amazing food! It's a great place to have fun and unwind after an action-packed day in the parks!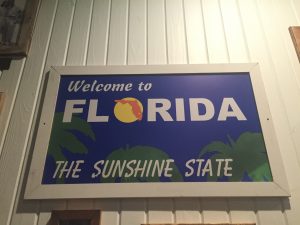 One of our new favorite Disney Springs restaurants is Chef Art Smith's Homecomin'.
Disney Springs theming immerses you into a waterfront town in Florida. Homecomin' fits this environment perfectly because every ingredient here is fully sourced in the sunshine state! Homecomin' serves the best in southern comfort food complete with a modern twist.
Everyone has heard of fried chicken and waffles. But what about fried chicken and donuts?! Yes, you heard me right, fried chicken and donuts is one example of southern comfort food reimagined that you can enjoy here!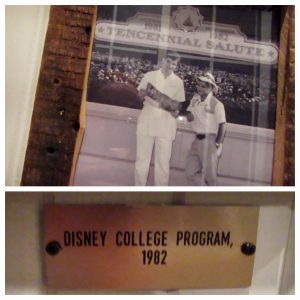 The restaurant's name has a significant meaning to the famous chef. Chef Art Smith participated in the Disney College Program in 1982, and now flash forward, he is proud to have his own restaurant at Disney. He has come full circle and this restaurant truly does represent his homecoming!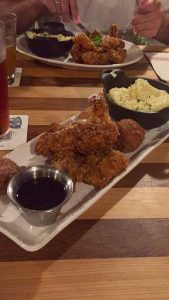 When we dined here we tried one of the menus staples, the fried chicken and donuts I mentioned before. This dish was fantastic! The fried chicken is done to a light and crispy perfection, accompanied by the stand out donut holes that bring in that sweet note. The two pair together perfectly in the best sweet and savory combination.
We also enjoyed the "Art's" famous fried chicken. This dish is your classic fried chicken but with an added kick. This was another win for us, the spices brought the dish flavor with just the right amount of heat.  Some other dishes you may enjoy are the chopped pork barbecue plate, hanger steak, fried catfish, thigh high chicken biscuits, shrimp and grits and much more.
If you like southern comfort food definitely make Homecomin' a stop on your next trip to Disney Springs!