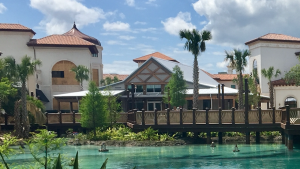 Updated news just released on The Edison at Disney Springs!  The Edison will be home to three locations all having Italian inspired offerings.  This new concept ties into the Disney Springs storyline of a restored Florida waterfront town.  The idea is to bring amazing food and wine from Italy to Florida, with stunning scenery that you can expect with Disney.
Maria & Enzo's will be an Italian trattoria set in the town's storied abandoned airline terminal from the 1930's.  The dining room is very open and will feature 50-foot ceilings with views of Lake Buena Vista.  The theming will showcase artifacts of air travel of the time period, such as maps and historic flight paths. The menu is inspired by Sicily with many authentic Italian dishes.  Some other menu options will include fresh fish, delicious steaks and chops.
Enzo's Hideaway will be a speakeasy inspired by Roman aperitivo bars.  Located in the storied rum-runner tunnels that connect to Maria & Enzo's.  Enzo's Hideaway will serve Prohibition-era cocktails at its Tunnel Bar and serve a casual menu of hearty Roman dishes such as Bucatini alla Carbonara (hollow spaghetti with creamy egg and pancetta sauce.
Pizza Ponte will be a casual fast food spot which will be a convenient location to pick up a quick Italian treat.  This location will feature pizza, Italian sandwiches, espresso and pastries.  One pastry specialty will be Bomboloni which is a wonderful Italian doughnut.  Savory items include stuffed pizza bread, sandwiches, roast pork, and Sicilian style pizza by the slice.
With all these new and exciting additions coming to Walt Disney World property, now is a perfect time to book your next vacation so you don't miss out on all the new experiences!