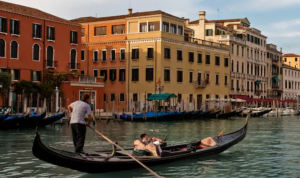 Adventures by Disney is a VIP tour service that combines the magic of Disney with the cultures of destinations around the world. The Disney company is known for their world-class guest service and hospitality and that is exactly what you will find in your Disney adventure guides. Your guides use storytelling to immerse you even more within the culture of the location you are visiting. Disney also brings in local guides at select stops along your tour so you can experience your destination from the perspective of a local.
There are many wonderful benefits to using Adventures by Disney. From the time you step off your plane, a Disney guide is there at the airport to greet you, get your bags and transport you to your first destination. During your tour, you move around to different hotels, giving you the opportunity to see multiple parts of the country you are visiting. During each transition, just like at the airport, Disney handles transporting your bags for you from place to place.
Adventures by Disney has exclusive connections with many businesses and local attractions. This means being with Adventures by Disney you get to skip the lines at many museums, shows and attractions. In the video you are about to see below, you will join our agent Jennie on her Adventures by Disney trip to Italy. On her trip, her and her adventure group were able to skip the 2 hour long line at St. Peter's Basilica and go straight in because they were with Disney. Similarly, on their trip they also had exclusive access to the Vatican museum after general admission hours! Their Adventure by Disney Group got to experience the museum all to themselves!
When Disney designs an Adventures by Disney tour for a destination, they take everything into consideration. Disney guides spend months testing out different hotels, restaurants and experiences and select the best and most authentic options. They do this to guarantee that you are getting the best of the best during your tour!
Disney is a top leader in the hospitality industry and holds high standards for everything they do. Adventures by Disney tours promise to deliver the level of quality and service that you expect from Disney. In the video below you can join our agent Jennie and experience what it is like traveling with Adventures by Disney! Enjoy!