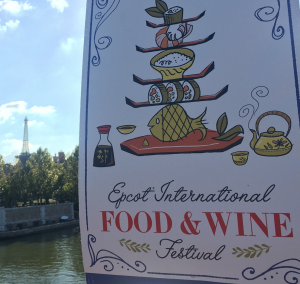 The annual Epcot International Food and Wine Festival is a fan favorite year after year. The culinary event gives guests the opportunity to sample food and beverage offerings from countries around the world. There is truly something for everyone! The International Food and Wine Festival is so popular, many guests make it a tradition to come back every year. Many even plan their yearly visit around when the event is taking place. Since the festival is so well loved Disney always does a wonderful job of ensuring there will be something new to experience alongside all the returning favorites. This year was certainly no exception, with more festival marketplaces than ever before! This year 2017, marks the 35th anniversary of Epcot, because of this Disney very fittingly gave the festival 35 marketplaces!  Here are some of the new offerings introduced during the 2017 festival!
The Light Lab
The Light Lab was located inside Innoventions West. This futurist lab was themed to science and you guessed it… light! The lab explored the role science plays in the culinary arts. Ever wonder how foods color and visual appearance affects our dining experience? Or how different tastes affect the human body? These questions are answered through colorful displays inside the lab. Menu offerings at the light lab included a 'glownut' a donut that actual appears to glow through the use of light and some Disney magic of course! The Light Lab quickly became well known for their creative beverage offerings, such as the T=CC2; a vanilla tonic water with liquefied cotton candy!
Flavors from Fire
Located in Future World just outside of Innoventions West, Flavors from Fire offered barbeque classics with a modern gourmet twist!
This marketplace instantly became popular for its smoked corned beef with warm crispy potatoes, pickled onions and blonde ale beer fondue. Another fan favorite from Flavors from Fire was the 'Piggy Wings'; roasted pork wings with Korean barbeque sauce and sesame seeds.
Next Eats
Next Eats, located in Future World was comprised of three marketplaces, two of which were brand new to the 2017 festival. The marketplaces to call the 'Next Eats' area home were, 'Active Eats', 'Earth Eats' and 'Coastal Eats'. Active Eats was popular for their loaded mac and cheese with Nueske's pepper bacon, cheddar cheese, peppers and green onions. For dessert, Active Eats had a very unique offering, the sweet avocado crema with strawberries, yellow cake and tortilla streusel. When you think of something sweet, avocado is most definitely not the first thing to pop in your head! But believe me this dessert can hit your sweet tooth! It is delicious and one of my personal favorite items from the 2017 festival!
Spain
Over in World Showcase, Epcot introduced a new marketplace country… Spain! A popular menu offering here was the charcuterie in a cone with a selection of imported Spanish meats, cheeses, olives and an herb vinaigrette. From Spain, I tried one of their dessert offerings, the sweet olive oil cake with powder sugar and lemon curd. It was light and moist with just the right amount of sweetness.
We were very impressed with the new offerings introduced at this years' festival and now we can't wait until the 2018 International Food and Wine Festival! To discover a few of the new offerings, join us in the video below for a fun day of food tasting in Epcot!