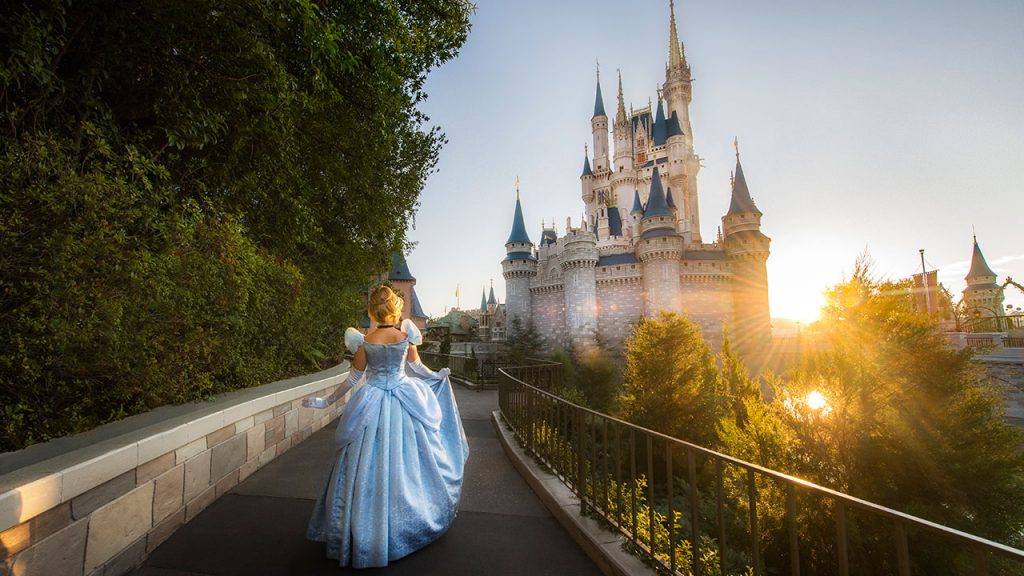 While in the Magic Kingdom inevitably you are going to work up an appetite from a day filled with rides, shows, and fun! The Magic Kingdom park has several highly popular restaurants such as the sought-after Cinderella's Royal Table, here you can dine with royalty inside the famous Cinderella Castle. Be Our Guest Restaurant is another favorite for Beauty and the Beast fans, here you step inside the story with French-influenced cuisine and dining rooms perfectly themed with details from the film. Crystal Palace on the corner of Main Street USA offers character dining with the lovable Winnie the Pooh characters and includes a wonderful buffet spread to fill you up before hitting the parks again.
These table service restaurants are a great experience to add to your day at the Magic Kingdom, but if you are looking for a faster and less expensive option then we know you will also have a great experience at a Disney quick service restaurant. When many people think of theme park fast food they think about just burgers and fries. Disney does quick service much differently! At a Disney quick-service location you can enjoy many gourmet options and even some unique menu offerings. Quick Service locations are also themed to the area of the park they are in and just like with everything Disney does, you feel immersed in the backstory and environment. Cosmic Rays Starlight Café in Tomorrowland feels like a futuristic space center. Pecos Bills in Frontierland will immerse you in an old western salon featuring delicious Mexican cuisine. Columbia Harbour House located in Liberty Square is another great choice, here in this colonial-themed quick service location you can enjoy great seafood items such as the lobster roll or the New England clam chowder.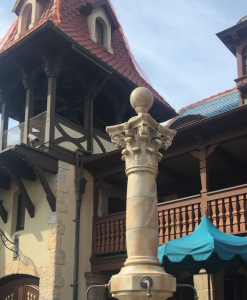 Now it's time for my pick for the best quick service at the Magic Kingdom! Drum roll, please….. Pinocchio Village Haus! Located in Fantasyland this restaurant is themed with touches from, you guessed it… Pinocchio! There are two main reasons that I have named Pinocchios' my favorite quick service.
Reason #1: The food! I love the menu offerings at Pinocchio Village Haus! Pinocchio's is known for their artisan flatbreads. You can choose from the sausage and pepperoni flatbread, pepperoni flatbread, classic cheese flatbread or my favorite the caprese flatbread! I have had the caprese flatbread several times before and it has always been a winner for me and the portion sizes are very generous. I would say that a flatbread here is definitely shareable for two people. Pinocchio Village Haus also features menu items such as the chicken caesar salad, chicken parmesan pasta, chicken parmesan sandwich, penne pasta and marinara, and chicken breast nuggets.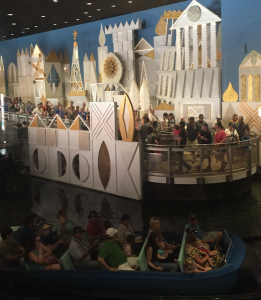 Reason #2: The atmosphere! The second reason I love this quick service location is for the atmosphere. For a quick service location, you can make this meal an experience if you know just where to grab a table! There are two spots I like to head for to get a table when eating here. The first is on the main floor where you order and pick up your food. Head to the back of the restaurant and you will find a wall of glass windows that overlook the It's a small World attraction! There are about 6 tables directly against the window that you can experience this unique view. If you can grab a table here do it! It is so relaxing to enjoy your meal as you watch the Small World boats float past. My other favorite spot to sit here is a little less known and is an absolute hidden gem! Toward the center of the restaurant, you will find an unmarked staircase. Head upstairs and you will find a second level of seating and even an upstairs deck that looks out into fantasyland. In my experience, this has always been a more quiet and relaxing spot to sit because many guests do not know you can go up the staircase.  There is not much signage advertising the additional seating. I have even had an experience where my family and I were the only guest dining on the upper deck!
There are a lot of places to dine in the Magic Kingdom but if you are looking to save time and some money head to a quick service location.  Happy eating!!!