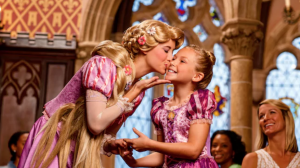 Character dining at Walt Disney World transforms your meal into an experience and a vacation memory your family will always cherish! Here are a few of the reason why choosing a character meal can enhance your next Disney vacation!
Skip The Line
The Disney characters are truly celebrities! Everyone wants to get an autograph from their hero and take a picture with their favorite princess! Due to how popular the characters are the lines to meet the characters can often be pretty long. When you choose a character meal you get VIP access to meeting the characters in a much more personal way.
See More Characters 
The great thing about character meals is that there are always multiple characters you get to meet and interact with throughout your meal. If you were to wait in line for a character in the parks often times that meet and greet experience just features that one character. So for every character you would want to see you need to wait in another queue. With character dining you are most often meeting upward of 6-8 characters all while in the relaxed setting of enjoying your meal. You can save your family hours of time by meeting all your favorite characters this way rather than spending time in lines.
More Personal Experience 
With character meals, you have the opportunity to interact with character in a more intimate setting as opposed to a quick photo-op in the park. During character dining meals, the characters take a lot more time with each group making for many more memories that you and your party will always remember!
Now that we have covered some of the great reasons to choose a character dining experience, now let's talk about the different character meals available at Walt Disney World!
All of the Character meals are different and each provides something unique as far as atmosphere, cuisine, theming and even down to which characters you get to meet. Now we will break down each character meal currently available at Walt Disney World so you can pick your favorite for your next trip!
Cinderella's Royal Table 
Characters: Princesses
Meals: breakfast, lunch and dinner
Cinderella's Royal Table is one of the most sought after reservation at Disney World. This dining experience is like no other, the restaurant is actually located upstairs inside Magic Kingdom's icon, Cinderella's Castle! When you dine here you are sure to feel like royalty! Throughout your meal you will meet some of your favorite Disney princesses! The restaurant serves breakfast, lunch and dinner and offers a pre-fix menu with a great variety of options for everyone. Cinderella's Royal Table is the most popular character meal in Disney World and reservations go fast. If you are interested in booking a reservation be sure to book as soon as your 180 days reservation window is open. Your Kingdom Magic Agent can assist you in making your reservations as soon as they become available to help guarantee you get in to all the place you want to go.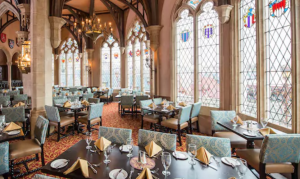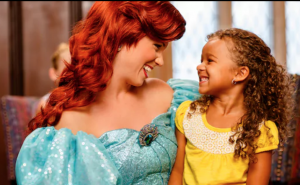 Tiana's Riverboat Party – Ice Cream Social and viewing party 
Meals: Dessert party
Characters: Princess Tiana and Prince Naveen
In this unique experience Tiana and Naveen from Disney Princess and the Frog, invent you aboard the Mark Twain Riverboat for an unforgettable party! The experience includes ice cream, topping and more sweet treats. The fun doesn't stop there the dining experience also gives you VIP seating for the Magic Kingdom's festival of Fantasy parade! From atop the Mark Twain Riverboat you are sure to have the best seat in the house to view this magical procession!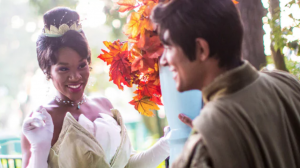 The Crystal Palace 
Meals: Breakfast, Lunch and Dinner
Characters: Winnie the Pooh Characters
The Crystal Palace is located right at the end of Main Street USA in the Magic Kingdom. The restaurant's theming is Inspired by Victorian greenhouses of the late 1800s, the restaurant features an array of topiaries and tropical palms, the perfect backdrop for meeting some of your favorite characters from the hundred-acre-woods. The restaurant serves a buffet breakfast, lunch and dinner.
Garden Grill
Meals: Breakfast, Lunch and Dinner
Characters: Classic Characters
The Garden Grill is located in the land pavilion in Epcot. This restaurant has one of the most unique views! Why? Because the view is always changing! As you dine the entire restaurant actually, very slowly is rotating around. At one point, you even have a view overlooking the Living with the Land boat ride! This restaurant is a family style meal for breakfast, lunch and dinner. Classic character such as Mickey Mouse, Chip and Dale and Goofy can be spotted here! (Character offerings subject to change)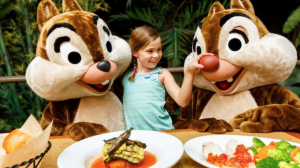 Akershus Royal Banquet Hall
Meals: Breakfast, Lunch and Dinner
Characters: Disney Princesses
Akershus Royal Banquet Hall is located at the Norway Pavilion inside Epcot. The restaurant transports you inside of a medieval castle with beautiful cathedral ceilings and breathtaking archways. You can start your day here with American Breakfast favorites served family style. Or join your favorite princess for lunch or dinner and enjoy Norwegian-inspired fare. During lunch and dinner guest get to begin their meal with a visit to the buffet where they will find some Scandinavian starters, and then visitors will also get to select a hot entree. Child menu options are also available so everyone in your party will find something they enjoy.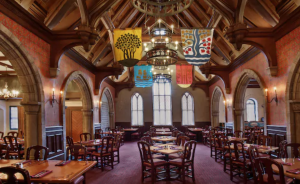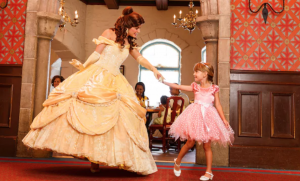 Hollywood and Vine
Meals: Breakfast, Lunch and Dinner
Characters: Disney Junior Characters or Classic Characters
Located in Hollywood Studios, Hollywood and Vine serves a great buffet-style meal with an abundance of offering. Your little ones will love meeting their favorite Disney Junior Characters during a memorable breakfast buffet. The restaurant also does seasonal characters dining experiences that feature the Classic Characters during lunch and dinner. Starting early September you can partake in Minnie's Halloween Dine, and come early November Minnie's Holiday Dine. During these seasonal meals you can meet Classic Characters such as Mickey, Minnie, Donald, Daisy and Goofy all decked out in either there Halloween costumes or there Christmas finery! (Characters subject to change)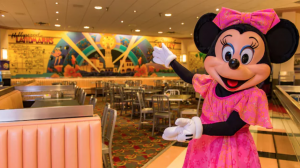 Tucker House
Meals: Breakfast, Lunch and Dinner
Characters: Classic Characters
Animal Kingdom is home to Tusker House. Here you can meet some of the Classic Characters in their adorable safari outfits! The food here is a buffet-style and offers a great mix of both traditional favorites and also for the adventurous eater, some delicious African-influenced items! To enhance your experience even more Tusker House offers a Rivers of Light dining package that gives you reserved seating for Animal Kingdom's new nighttime water projection show!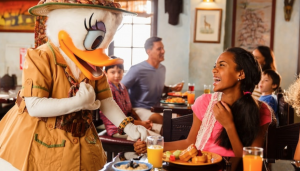 1900 Park Fare 
Meals: Breakfast and Dinner
Characters: Disney Characters or Cinderella Characters
Located at Disney deluxe Grand Floridian Resort and Spa, 1900 Park Fare offers an amazing buffet spread that is fit for royalty. During breakfast guest can be part of the
Supercalifragilistic Breakfast! This experience allows you to meet some more rare characters, including the Mad Hater, Alice and even Mary Poppins! As Mary Poppins herself would state, this meal is "practically perfect in every way!"
During dinner, you can step into the story of Cinderella and meet characters from the beloved tale during Cinderella's Happily Ever After Dinner.  Prince Charming, the Step-Mother, Step-Sister and of course Cinderella herself are a few of the characters that guests get to meet. (Character appearances subject to change)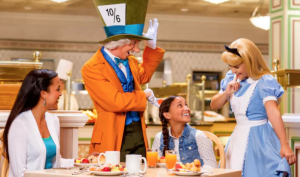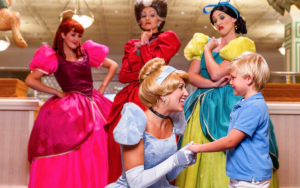 Chef Mickey's 
Meals: Breakfast, Brunch or Dinner
Characters: Classic Characters
Located at Disney's Contemporary Resort, Chef Mickey's is a fun buffet meal for the whole family! Meet the Classic Disney Characters as you enjoy a buffet of American favorites! This restaurant offers breakfast, brunch and dinner.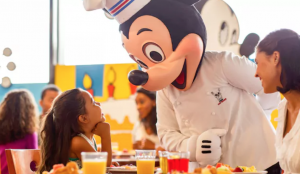 Ohana
Meals: Breakfast
Characters: Lilo and Stitch Characters
Ohana is open for breakfast, lunch and dinner but breakfast is extra special because breakfast here is a Characters meal! Located at Disney's Polynesian Village Resort you feel as though you have been transported to the beautiful Hawaiian islands! Ohana brings alive the spirit of the Hawaiian culture. During breakfast you can meet Lilo and Stitch! These characters are very rare to find in the parks so if you are a fan of the film this meal is a must-do!
(Character subject to change)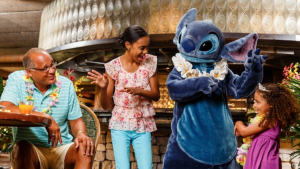 Cape May Cafe
Meals: Breakfast
Characters: Classic Characters
Located at Disney Beach Club Resort, this New England-style, beachside setting restaurant is the perfect backdrop for a Disney Character breakfast! Meet your favorite Disney Classic Characters adorned in their Tropical-Vacations attire, all while enjoying an all you care to enjoy buffet!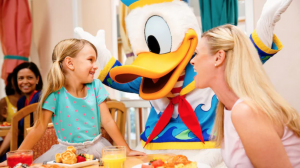 Mickey's Backyard BBQ 
Meals: Dinner Show
Characters: Classic Characters
Located at Disney Fort Wilderness campground join Mickey and the gang for Dancing and a delicious barbeque buffet. This dining experience is interactive and filled with fun!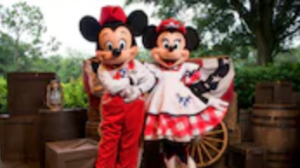 Trattoria al Forno
Meals: Breakfast
Characters: Tangled and Little Mermaid Characters
Located at Disney Boardwalk Resort this restaurant offers the Bon Voyage Adventure Breakfast! Jump-start your morning with a hearty breakfast featuring beloved Characters from some of your favorite Disney fairytales. Familiar faces from popular animated tales such as Tangled and The Little Mermaid will be drifting through the restaurant and stopping by your table to meet you while you dine on delicious morning staples. Here you can meet character such as Ariel, Prince Eric, Rapunzel and Flynn Rider.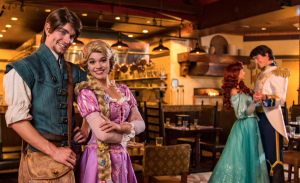 Choosing a Character meal for your next Trip to Walt Disney World is sure to create lasting memories for your entire family!