Happy New Year! Welcoming a new year is always an exciting night filled with anticipation. If you are spending New Year's Eve in Disney, then you are in for an extra special treat! Disney knows how to throw a party. For New Year's Eve Disney goes all out with special countdown fireworks, dance parties in the parks and more festivities to help guests ring in the New Year. If you are looking for a unique experience for your New Year's Eve celebration, Disney has you covered. They offer a wide variety of special meals, dining packages and events for the New Year's Eve holiday. These events range from a buffet meal at Epcot's World Show Place Pavilion to a luxurious countdown to midnight party at the California Grill.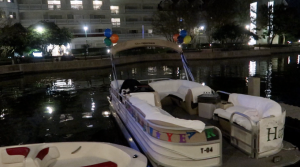 My family and I spent New Year's Eve in Walt Disney World this year and it was the best New Year's Eve celebration ever! Disney knows how to make everything extra magical and made the night very special! We did a fireworks boat cruise and got to watch Magic Kingdom's incredible countdown fireworks from our very own pontoon boat on the Seven Seas Lagoon. The parks can get very crowded on New Year's Eve, this cruise experience allowed us to see the same fireworks in a much more private and relaxed setting.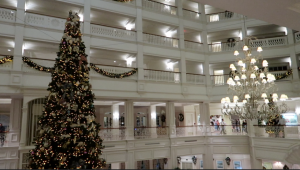 Our night began arriving at Disney's Grand Floridian Resort and Spa where we would board our boat at the hotel's marina. As soon as we arrived Disney rolled out the red carpet and made us feel pampered. When we checked in for our cruise we were greeted by our boat's captain and guide for the evening. He was wonderful and very personable. Our captain escorted us to a special dessert party on the grounds of the Grand Floridian that was exclusive for guests taking cruises that evening. The dessert party was included in the price of our New Year's Eve cruise. This was the best way to kick off the festivities.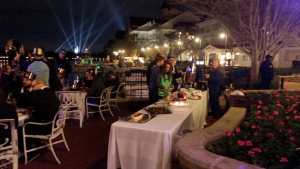 Disney provided us with all our New Year's Eve gear including hats, tiaras, horns and clappers.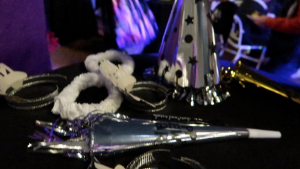 The events offerings included soft drinks, bottled water, coffee and guests over 21 even got to enjoy some adult beverages. For snacks the event included a cheese board, fruits and vegetables, along with a selection of decadent and delicious desserts. My favorite was the chocolate covered strawberries, they were coated in a rich dark chocolate and the presentation was outstanding complete with edible glitter! All of the desserts had beautiful decorations themed to 2018! It made for a very festive start!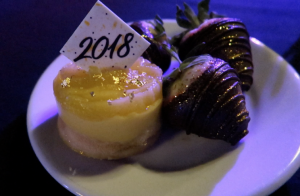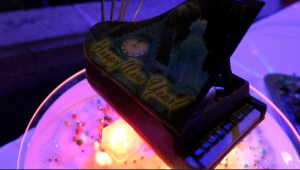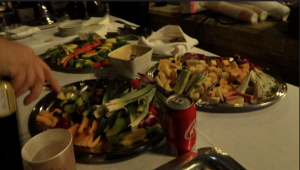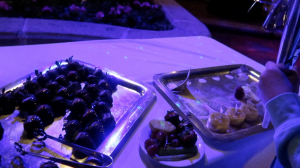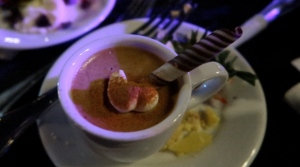 The private party also included a DJ who made sure everyone was energized and ready to ring in the new year! We enjoyed our treats and the music all while soaking in the picturesque view of Cinderella Castle and the Magic Kingdom from across the lagoon.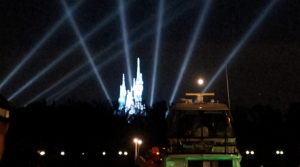 Around 10:30 at night we boarded our pontoon boat with our captain. The boat was decked out for the occasion with New Year's Eve banners and balloons. What I loved about this boat cruise experience is that they don't just take you out to the center of the lagoon before the fireworks and drop anchor just to watch the show. The captain really takes his time and takes you on a very relaxing cruise all around Seven Seas Lagoon and also over to Bay Lake. This portion of the experience adds so much. Your captain serves as your guide and as you tour the lake points out interesting facts and stories about the history of the property and the Disney company.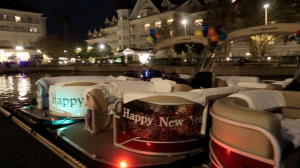 I am a proud self-proclaimed Disney super fan and I learned things during this portion of the cruise that I had never heard before. For example, our captain pointed out that the island located as soon as you enter Bay Lake from Seven Seas Lagoon is call Frontier Island. Nothing inhabits the island but it's original intension was that Walt Disney wanted to build a house there for him and his family to live in. As we passed Disney's Contemporary hotel our captain shared that in the Contemporary's conference center is where Nixon gave his Watergate speech. We also learned while passing the Polynesian that Disney's Polynesian Village resort was the location where the Beatles broke up. Paul McCartney was staying at the Polynesian when his lawyer came to have him sign the papers, officially splitting up the band. This type of interesting Disney trivia added to the experience and made us feel like we were getting a Disney tour and a special show viewing all in one.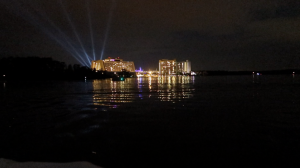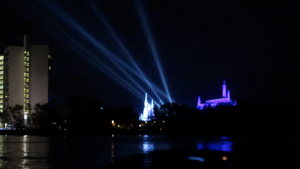 As we neared midnight our captain took us to the location where we would watch the fireworks. We dropped anchor just off of the Polynesian Beach. We had a perfect view of the show. The sky lit up with so many colorful fireworks.  As the stroke of midnight neared the show counted down in the best way I have ever seen! In the sky fireworks in the shape of numbers counted down from 10 to welcome in the New Year! It was hands-down the best fireworks I have ever seen in Disney.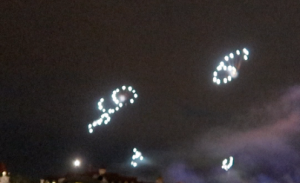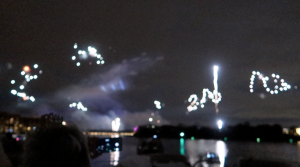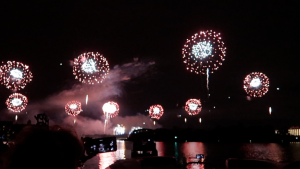 Watch the Magic Kingdom countdown fireworks in our new YouTube video!