The Walt Disney World Resort is massive, filled with magic and fun around every corner. The resort is twice the size of the city of San Francisco. Being such a large property transportation plays a big role in every guest's vacation. Disney is committed to always enhancing the Walt Disney World transportation system and creating new offerings for guests to get where they are going safely and efficiently. The Disney transportation fleet includes busses, monorails, boats and currently under construction the Skyliner gondola system. This past year Disney introduced another mode of transportation to the fleet… Minnie Vans!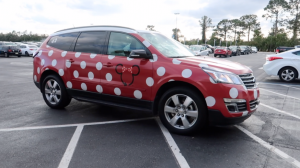 Yes they are as cute as they sound! The majority of the Minnie Vans are Chevy Traverses, they are themed in adorable Minnie Mouse style! Being covered in polk-a-dots, you can't miss these super cute cars as they drive around property!
So what is the Disney Minnie Van service? The Disney Minnie vans can be ordered by guests as a personal point-to-point ride service. If you are familiar with ride sharing services such as Uber and Lyft, this is Disney World's version of that.
In fact, for this pilot program at the Disney World Resort, Disney has partnered with Lyft to use their app technology. Guests can order their Minnie Van through the Lyft app. When on Disney World property the location service in the Lyft application will detect that you are at Disney World and offer the Minnie Van as an option over calling a regular Lyft. Guests can also order Minnie vans through Bell Services if they are staying at a Disney Resort that offers Minnie van pick-up. At this point in time a few select Disney Resorts offer Minnie Van resort pick-up. Here is the full list of the resorts currently offering Minnie Van pick-up at that resort:
Disney's Animal Kingdom Lodge
Disney's Yacht Club Resort
Disney's Beach Club Resort
Disney's Boardwalk Resort
Disney's Old Key West Resort
Disney's Wilderness Lodge
Disney's Contemporary Resort / Bay Lake Tower
Disney's Polynesian Village Resort
Disney's Grand Floridian Resort and Spa
Due to the service's popularity, we can expect that the resort pick-up locations will be expanded to even more Disney World resort hotels in the future. This being said it is important to note you do not need to be staying at one of these resorts to take a Minnie van. Guests can take Minnie vans from park to park. For example, from Epcot to Magic Kingdom.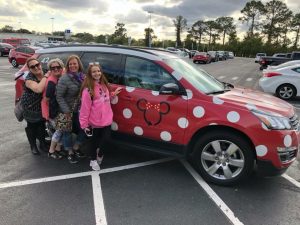 Taking a Disney Minnie Van over taking a traditional Uber or Lyft gives you many additional benefits and a much bigger comfort level. One of the biggest difference when calling a Minnie van instead of a generic ride service like Uber or Lyft is that you can rest assured that your driver is a Disney cast member. With Minnie Vans, you know that your driver meets all the standards that are required by Disney cast members and has received a high level of training. Our driver shared with us that all Minnie Van drivers must complete an 8-hour course on the proper way to install a car seat taught by car seat doctors! Yes, that is a real thing! That is just one small example of the level of care and service you will receive from your Minnie Van driver.
A major advantage to taking a Minnie Van over standard forms of Disney transportation is all the time that you save. When relying on a Disney bus to go to a park or back to your resort you could spend a significant amount of time waiting to be picked up or having to wait while the bus makes additional stops. With a Minnie Van you can go directly to your destination in your own ride.
Another Minnie Van perk is that you can get dropped off at exclusive locations near the front of the parks. If riding in a standard uber or lyft those drivers have limitation as to how far they can take guests. When you arrive in a Minnie van you get front row access! For example, our driver shared with us that Minnie Vans get to drop guests of in the main bus loop of magic Kingdom. A traditional ride sharing service would only have access to the main magic kingdom parking lot.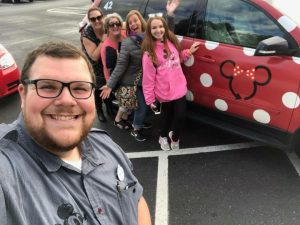 During a recent Kingdom Magic Vacation's event, a few members of our team including myself got to experience a Minnie Van ride for ourselves and we had a blast! After a fun filled afternoon at Animal Kingdom we called a Minnie Van to take us to Disney's Contemporary Resort for our dinner reservation. We loved that the Minnie Van ride saved us so much time by not having to wait for the bus, which typically makes additional stops at other resorts. With the Minnie Van, our driver appeared in less than 10 minutes and we got to ride in style to our destination, saving us so much time.