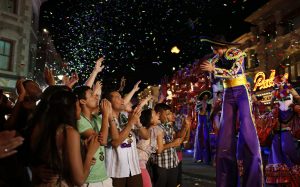 Mardi Gras is right around the corner, but the festivities have already begun at the Universal Orlando Resort! This annual event will immerse you in an authentic Mardi Gras celebration! Universal's Mardi Gras is no additional charge to guests and is included in the price of your regular park admission! The live music, the street performers, the food, the parade, the beads, it will all add up to make you feel like you have been transported to New Orleans!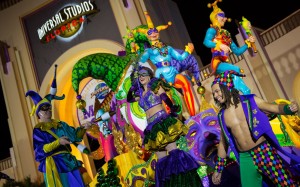 Live Entertainment
A fan-favorite at the event each year is the concert series. Universal gets some very big names in music to come perform in the park! The best part is that just like the event itself, the concerts are also included in your regular admission ticket! We recommend allowing yourself time to stake out a spot for the concerts you really want to see because these shows are very popular. Here is the star-studded lineup for this year's event,
Mardi Gras 2018 Concert Lineup:
Feb. 3: Sean Paul
Feb. 10: The Beach Boys
Feb. 17: Kelsea Ballerini
Feb. 18: Andy Grammer
Feb. 24: Macklemore
March 3: 311
March 4: Phillip Phillips
March 10: Jason Derulo
March 11: Fitz and the Tantrums
March 17: Foreigner
March 18: Fifth Harmony
March 24: Jessie J
March 25: BUSH
In addition to these chart-topping artist, guests can also enjoy some of New Orleans' most talented brass bands preforming in The French Quarter Courtyard.
Feb. 3 – Feb. 20: Free Agents Brass Band
Feb. 21 – March 6: Naughty Professor Brass Band
March 7 – March 20: New Breed Brass Band
March 21 – March 31: Young Pinstripe Brass Band
April 1 – April 7: Dirty Bourbon River Show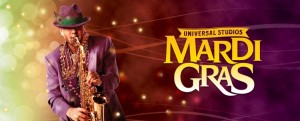 Street Performers
It wouldn't be a Mardi Gras celebration without some memorable characters! Throughout the evening, you can encounter some decked out street performers in their colorful costumes!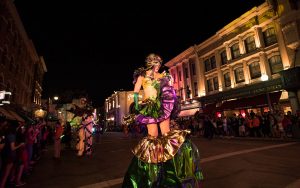 Mardi Gras Parade
A Mardi Gras staple is a good parade, and Universal does not disappoint when it comes to their Mardi Gras parade! Every float is elaborate and wonderfully crafted. Each year the parade features a different theme. This year the parade is constellation-themed! This celestial parade includes dancers, colorful stilt performers and 12 of those incredibly handcrafted floats! The parade is fun and interactive as guests get the chance to catch those iconic Mardi Gras beads as they fly from the floats! Some guests may even have the opportunity to be a star in the festivities. Each night Universal randomly picks guests and gives them the opportunity to get dressed up and throw beads to the crowd in the parade!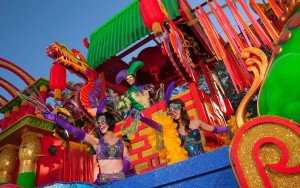 Food and Beverage Offerings
Every great party needs great food and Universal has you covered here as well! Here you will find a street party with tents offering wonderful Cajun food for purchase. Throughout the park guests will also find pop-up bars and for dessert be sure to save room for some delicious and authentic beignets!
We hope you get the opportunity to come out to Universal Orlando and enjoy this fun and unique event for yourself! There is still time to plan a Mardi Gras getaway to Universal! Contact your Kingdom Magic Vacation planner today to plan you next adventure!