Back in August, at the 2017 D23 Expo in Anaheim California we found out that Paradise Pier at Disney's California Adventure park would be reimagined as Pixar Pier. The current Paradise Pier was themed to a traditional boardwalk that you would find along the California Coast. The area of the park featured iconic boardwalk staples from a rollercoaster (California Screamin') to swings (Silly Symphony Swings).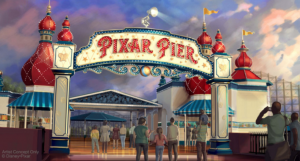 The idea for the revamped Pixar Pier will retheme a lot of the existing attractions on Paradise Pier and give them a new backstory based off of many beloved Disney Pixar movies. For several years, Paradise Pier has already been home to the Toy Story Midway Mania attraction which is based off of the popular Disney Pixar film series Toy Story. The added presence of more Pixar films to this area of the park will be very fitting and we are so excited to see what Disney has in store for the new land!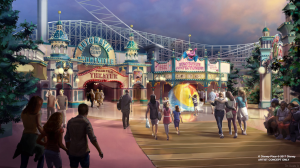 And we will get to experience Pixar Pier sooner than you'd think! We now have an opening date for the reimagined land! Pixar Pier will open in Disney California Adventure on June 23rd 2018! Right around the corner!!!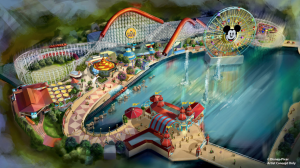 Pixar Pier will feature four neighborhoods representing different Pixar films. The main attraction will be the Incredicoaster based off of the Incredibles movie. The Incredicoaster will take the place of California Screamin'.  The premise of the new Incredibles' coaster is that the Parr family will race alongside you while trying to catch baby Jack-Jack.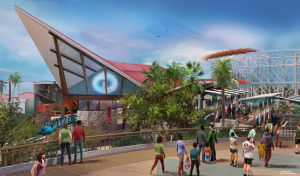 Also coming to Pixar Pier will be an attraction themed to the Disney Pixar movie, Inside Out.  This attraction will be added to the new land at a later date.
In celebration of Pixar Pier opening, an Incredibles parade float will also be added as an additional float in the Paint the Night Parade. Paint the Night is an amazing nighttime parade that originally premiered at Disneyland for the park's 60th anniversary. The popular parade is now returning to the Disneyland Resort, this time at Disney's California Adventure! Paint the Night is scheduled to make it's California Adventure debut on April 13th 2018. The new Incredible float will be added in June 2018. The float will feature Mr. Incredible, Elastigirl and Frozone!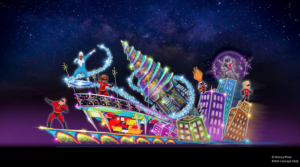 Check out this newly reimagined land for yourself this summer! With all these exciting changes now is a great time to plan your vacation to the original Disney Park… Disneyland! Contact your Kingdom Magic travel planner today!