The Disneyland Resort in Anaheim California is home to three Disney Resort hotels that are located on Disneyland property. There is the Disneyland Hotel, Disney's Paradise Pier Hotel, and Disney's Grand Californian Hotel & Spa. Each one of these luxurious resorts is one-of-a-kind and offers something unique as far as their amenities and theming.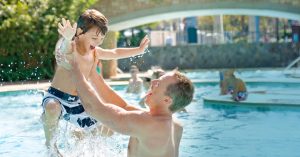 Staying at a Disneyland resort offers you many perks such as close proximity to the parks. All of the hotels are within walking distance to Downtown Disney, Disneyland Park and Disney's California Adventure Park. Staying at one of the three Disney hotels puts you right in the middle of the magic and truly gives you that feeling of full immersion into the fantasy of Disney. You feel separated from the outside world and can truly allow yourself to enter into vacation mode! Let's explore each of the Disney resorts that Disneyland has to offer.
The Disneyland Hotel
One word best describes the Disneyland Hotel and that is nostalgia! This resort is the original Disney hotel and is full of history! The theming of the entire hotel celebrates many iconic parts of Disneyland park! Inside the hotel, the rooms are modern and updated while still including many classic Disney touches. One of these very popular, whimsical touches is the beautiful Sleeping Beauty Castle headboard that features light up fiber-optic fireworks! The resort's pool includes 2 monorail themed waterslides, a perfect way to cool off on a hot Southern California Day! The Resort has many wonderful restaurants and dining locations. Guests can partake in character dining at Goofy's Kitchen, relax in an old Hollywood setting at Steakhouse 55 or enjoy casual Island dining at Tangaroa Terrace. For a unique spot to grab a drink, you have to check out Trader Sam's, a Tiki bar with a backstory that ties into the famous Disneyland Ride, Jungle Cruise. Also onsite at the Disneyland Hotel is The Coffee House, this grab-and-go shop offers a great selection of coffees, snacks, pastries and more. The Disneyland Hotel is the original hotel at the original park and truly give you that authentic Disneyland experience!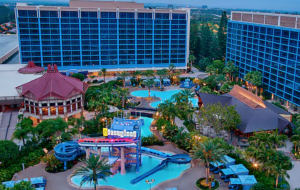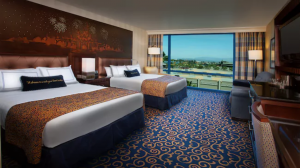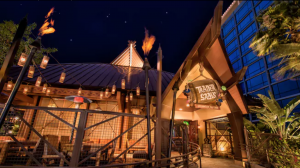 Disney's Paradise Pier
What do you think of when you think of California? (well aside from Disneyland of course!)… The beach! Southern California is known for those world-famous beaches. Paradise Pier is an homage to the heyday of California beach-front boardwalks. Paradise Pier will make you feel as though you have stepped back in time, all while still remaining modern and sleek! There are seaside touches everywhere you turn! This resort is home to a rooftop pool featuring a rollercoaster themed waterslide. From the hotel's rooftop deck you can take in an amazing panoramic view of all of the Disneyland Resort! This spot is an incredible location to watch the Disneyland fireworks, they even pump in the music! Paradise Pier has many great options for dining. Disney's PCH Grill is a character dining experience offering California inspired cuisine. Located just off the lobby you will find Surfside Lounge, this is a great spot to grab a drink or a small bite. The Sand Bar is located on the rooftop deck and serves up boardwalk staples such as hot dogs and sandwiches along with a selection of specialty drinks. Disney's Paradise Pier is sure to immerse you in the spirit and culture of southern California!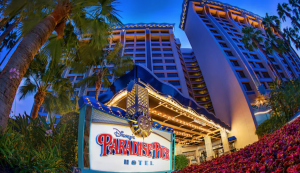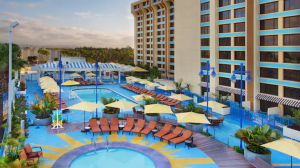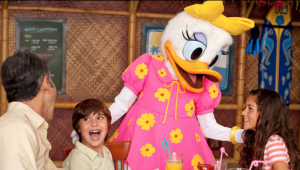 Disney's Grand Californian Hotel and Spa
Disneyland's flagship luxury resort is Disney's Grand Californian Hotel and Spa. This resort celebrates the craftsman style of Californian architecture. The Grand Californian is elegant and timeless. This Resort is the closest to Disney's California Adventure Park. The hotel actually has its own entrance into California Adventure! I personally have stayed here before and I couldn't get over just how close you are to the park! Our balcony overlooked directly into the theme park! We could see California Adventure's nighttime show, World of Color from our room, it is a memory I will never forget!
Guests can cool off in the newly renovated Redwood Pool. The pool's theming is very tranquil and serene with beautiful landscaping creating a woodsy feel. This pool features a 90-foot long water slide! The Grand Californian is home to a Disney signature restaurant Napa Rose, this upscale restaurant serves the finest in Californian cuisine. Nearby you will find the Napa Rose Lounge, a great quite spot to grab a drink and unwind after a fun day in the parks. Another popular lounge at the resort is the Hearthstone Lounge, here guests can enjoy drinks, snacks and small plates. Another dining location is Storytellers Café, this restaurant serves home-style meals. Guests can choose between the buffet or order from the à la carte menu. During the morning, Storytellers Café is a character dining experience that gives you the opportunity to meet some of your favorite Disney friends as you dine. White Water Snacks is a quick-service location with a great selection. The dining location also sells grab-and-go items and snacks. The Grand Californian is home to the Mandara Spa. The Mandara Spa is a world-class luxury spa experience. Staying at Disney's Grand Californian you are sure to feel pampered and relaxed during your Disneyland vacation!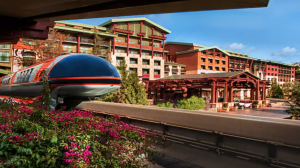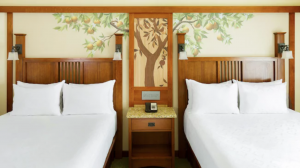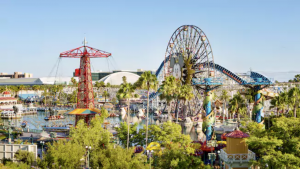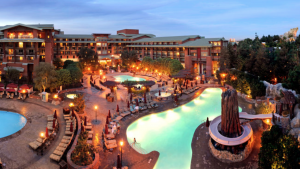 Each of the Disneyland Resorts is special and offers something unique! We are excited to help you plan your next vacation to Disneyland or wherever your next adventure leads you!