Late this summer a brand new hotel will be coming to the Universal Orlando Resort! Universal's Aventura Hotel will be unique compared to the other on-site hotels at Universal. Each of the Universal hotels will transport you into an amazing story through theming and incredible attention to detail. Aventura will be a fresh new experience for our guests and also affordable too. Once you arrive at the Aventura hotel you will be greeted by a sleek high rise. The clean lines and simple colors will give a modern and contemporary feel. Aventura's architectural design was created with purpose. The Universal team has stated that they wanted the hotels design to make guests feel relaxed and at ease. It's the perfect place for you to rest and hangout after a thrilling day in our theme parks.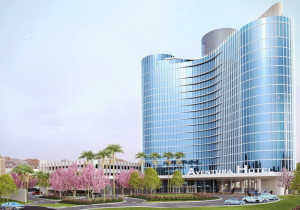 If you look at the building from an aerial view, you will notice that there are 3 overlapping wings of the hotel. These 3 wings are all anchored by a center circle, this design is being called a "trefoil" shape. This design not only gives architectural interest to the hotel, but it also offers great views from all angles. Inside the hotel, details like pops of blue in the entry tiles will add visual interest while still keeping with that simple and modern look. Throughout the grounds lush, green foliage will add natural colors to the exterior of the hotel and will remind guests of the natural beauty of Florida!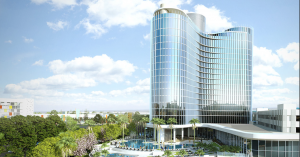 Aventura will have an amazing pool, visible from the floor-to-ceiling windows in the lobby. Aventura's pool will be a relaxing location for the entire family! The pool area will be complete with a kid's splash pad, poolside bar, and a fire pit where guests can enjoy making delicious s'mores. The pool will even have underwater speakers!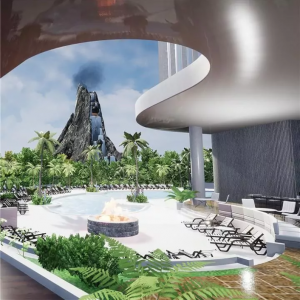 Aventura will be home to a rooftop bar and restaurant, that will sit high atop this beautiful hotel. Located on the 17th floor, the rooftop bar and grill will offer incredible views of the Universal Resort! From the rooftop deck you will even be able to see clear to downtown Orlando!
Everything about this hotel from the design to the amenities will bring a fresh and modern feel to the Universal Resort! We can't wait until this new hotel opens this August!