A brand new, immersive Pixar character experience will soon be offered for kids ages 4-12 at Disney's Contemporary Resort. Each night kids can have the chance to be transported into the world of their favorite Pixar movies and interact with many beloved Pixar characters! The experience is called the Pixar Play Zone! This new offering allows kids to get to play while parents get to enjoy a night out at the Walt Disney World Resort! Pixar Play Zone is part of a pilot program that starts April 13, 2018 at the Contemporary Resort. Any Guests can bring their kids to Pixar Play Zone, you do not need to be a resort guest in order to book this kid's experience.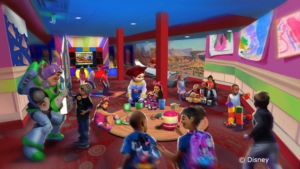 Let's take a look inside at what kids will get to experience at Pixar Play Zone! Bonnie's Play Room will be filled with a variety of toys. Just around the corner is the Living Room. This space will serve as the hub for most of the activity at Pixar Play Zone! It is here that kids can experience Space Ranger Training where a Space Ranger will teach kids what it takes to become a Junior Space Ranger of Star Command and how to identify enemies, like the evil emperor Zurg. Kids will also learn the call of the Space Ranger, "To infinity and beyond!" This is just one of the amazing interactive experience kids can enjoy! Woody and Jessie will show kids the ropes of the Wild West during Woody's Roundup which will be complete with a sing-along. Next to the Living Room will be the Radiator Springs Racetrack! Here kids will get to build their own racecars and take turns sending them down a soapbox derby racetrack for Piston Cup Derby Races. Finally, kids can participate in the Incredible Dance Party with Mr. and Mrs. Incredible, and a fun party host! Your kid's evening at Pixar Play Zone will also include arcade games, dinner and dessert.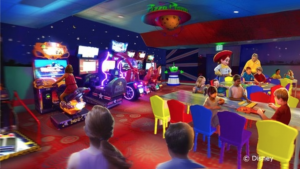 The kid's nightly getaway will open doors for check-in at 5 p.m. The experience will begin at the welcome desk, a stop at the "Monsters, Inc." handwashing station, followed by Boo's Closet Door, where youngsters will be able to store any belongings before taking a couple of steps into an evening of Pixar fun! Programming will run from 6 to 10:30 p.m. for a fee of $65 per child (plus tax)
This new offering is a great chance for kids to experience activities just for them and make new friends! The experience also gives parents some time off so they can enjoy a romantic evening at Walt Disney World! Here are a few fun date night ideas to do while your kids enjoy Pixar Play Zone!
Dinner on the Monorail Loop
The location of Pixar Play Zone, Disney's Contemporary Resort sits on the monorail loop. The monorail connects the Magic Kingdom Park, Disney's Contemporary Resort, Disney's Polynesian Village Resort and Disney's Grand Floridian Resort and Spa. All of these wonderful resorts have a great selection of restaurants to choose from. You can find a place for whatever cuisine or atmosphere you are looking for.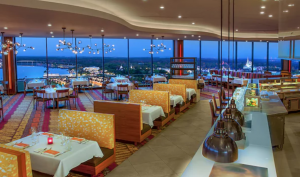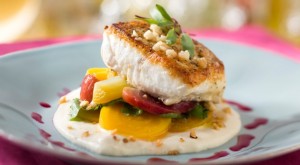 Resort Hopping
The 3 resorts on the monorail loop, Contemporary, Polynesian and Grand Floridian are all stunning and offer something unique to see and do! The Contemporary is sleek and modern, this classic hotel is timeless and futurist all at the same time! The Polynesian Village Resort will transport you to an island paradise! The grounds are lush and tropical. There is even a beach that overlooks the seven seas lagoon across to the Magic Kingdom. The Grand Floridian is luxurious and Victorian. The Disney World resorts are truly like theme parks in themselves! You can spend a wonderful evening exploring around the resorts and their beautiful grounds. Grab dinner along the way or enjoy a drink at one of the resort's lounges.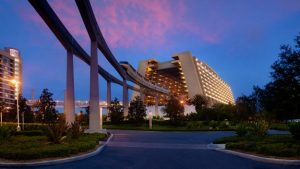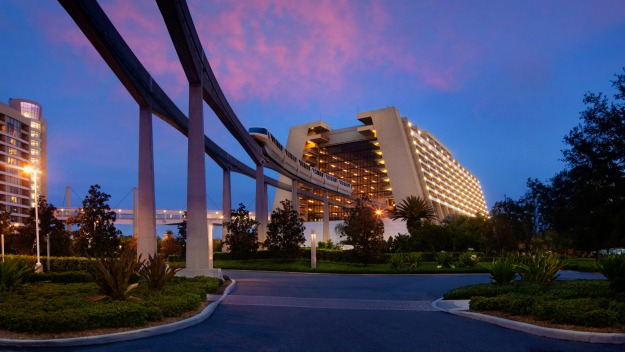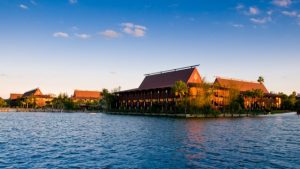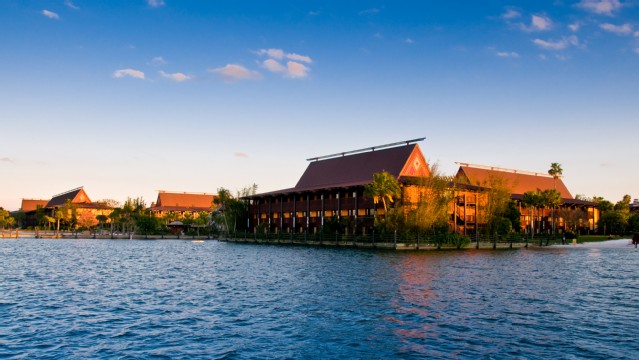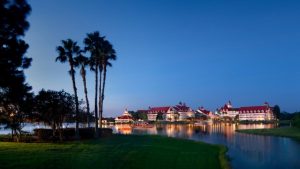 Epcot
If you take the monorail from the Contemporary to the transportation and ticket center you can catch a connecting monorail straight to Epcot! Epcot is home to the world showcase. The world showcase is home to 11 pavilions that represent their respective countries. If you feel like traveling the world in an evening Epcot is the place for you! During different times of the years Epcot is also the host for many popular festivals including the International Food and Wine Festival, the Flower and Garden Festival, the Festival of the Holidays and the Festival of the Arts! There is always something new to see and do and eat at Epcot!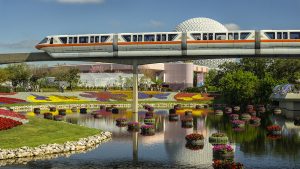 The Pixar Play Zone is a great place for kids to play while adults get to go out and enjoy a special evening knowing that their children are in great hands!