For those who love golf and soccer Walt Disney World Golf now has something you will get really excited about!  Arnold Palmer Golf Management is happy to offer the game of FootGolf to guests at Disney's Oak Trail golf course.  This 18-hole FootGolf course is certified by the American FootGolf League.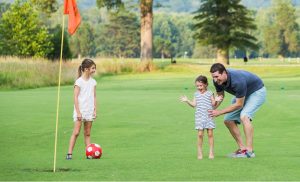 Tee times can be booked for 18 holes of FootGolf in front or behind those playing 9 holes of traditional golf.  If you play in groups of four the 18 holes of FootGolf will take approximately 2 hours and 15 minutes, which is similar to playing 9 holes of traditional golf.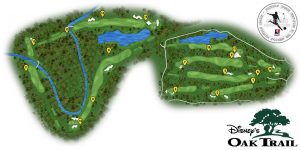 Disney's Oak Trail FootGolf course is marked by its official color of orange while traditional golf is played to the blue pin flags.  There are no forced carries over any waterways on the 18 holes so it is a game that will be for both young and old.  It will be great for the whole family to enjoy together!