Animal Kingdom Park will soon debut a new character experience to guests! This new character interaction will be unlike anything you ever seen in a Disney Park! Beginning April 22nd, a towering mechanical suit will stop guests in their tracks in Pandora — The World of Avatar at Disney's Animal Kingdom Park! Disney has shared that the new Pandora Utility Suit is inspired by the iconic Amplified Mobility Platform (AMP) suits of power armor from the film, Avatar.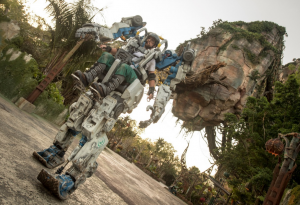 This towering suit will stand ten feet high and feature a human pilot strapped into the cockpit of this exo-carrier. The pilot will control the suits powerful, yet agile movements. This giant walking suit was designed with articulated hands and a shoulder span of more than five feet. The pilot will be able to talk and interact with guests. They will share with guests, stories of the planet of Pandora and the history and culture of the lands people!
Disney always gives incredible attention to detail! Visitors will notice the suit bears claw marks and battle scars from a Thanator — an alpha predator on Pandora. The Pandora Utility Suit was actually reportedly designed for restoration, while the film's AMP suits were created for infantry missions of destruction. These are all the backstories that we are sure the suit's pilot will go into sharing with guests!  The suits streamlined structure and technical upgrades make it the perfect tool to collect plant samples, study flora, and survive Pandora's wild terrain.
Disney has shared that as the suit travels the land daily, the pilot will interact with guests, share details about the land's landscape, and highlight the importance of preserving nature.  This new character experience will debut April 22 as part of the 20th anniversary celebration of Disney's Animal Kingdom Park at Walt Disney World Resort!