Fast & Furious – Supercharged is now open at Universal Studios Orlando! We are excited to share some additional information about the Virtual Line at this new attraction. Using the Virtual Line allows you to select a time to return to the ride. This enables you with the freedom to explore the rest of the park and enjoy other attractions in Universal Studios while you wait!
Here's all the steps you need to know to access Virtual Line, and what you'll experience once inside Fast & Furious – Supercharged:
Download the Official Universal Orlando Resort App
The quickest way to access Virtual Line is to download The Official Universal Orlando Resort App. In the Universal app, you can view wait times, park maps, show times, and of course get a Virtual Line return time! After downloading the app, tap on the image of Fast & Furious – Supercharged from the home screen.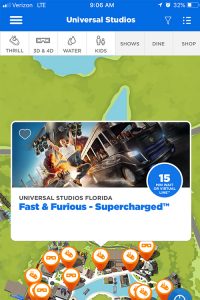 Once you have selected the Fast & Furious – Supercharged, tap on Virtual Line then tap Reserve.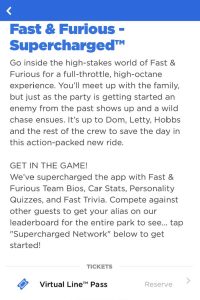 Your next step is to select how many people are in your party. The app will show the next available return times. All you have to do is select the time that is best for you and your group and tap "Reserve".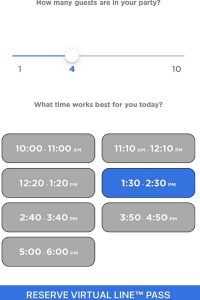 Once you have secured your return time, you now can have the luxury of exploring the rest Universal Studios as you wait. Just make sure to return a few minutes before your reserved time for access into the attraction.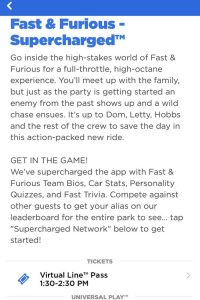 You also have the option to reserve your ride time by visiting one of the kiosks outside of the main entrance to the attraction.
Returning to Fast & Furious – Supercharged
A few minutes before your return time, head over to the main entrance for Fast & Furious – Supercharged and scan your mobile phone to be granted access.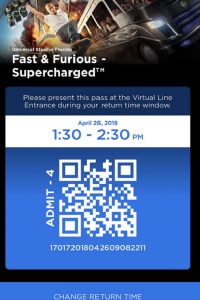 Note that Fast & Furious – Supercharged also has a Single Rider option if guests are willing to be split up from the rest of their party. For guests with Universal Express Pass, you won't need to make a Virtual Line return time and can proceed directly to the attraction entrance.
Incredible Storytelling, Muscle Cars, and Your Mission
As you travel through the attraction, you will pass by iconic scenes inspired by the Fast & Furious films such as the family BBQ picnic area. Once you're in, keep an eye out for Mia and Team's text messages. They'll give you details about your upcoming mission.
Turn Up The Game
For the first time ever the Universal Orlando Resort App will feature exclusive Fast & Furious character bios, quizzes, and even a few surprises that guests can unlock. While walking through Fast & Furious – Supercharged, you can compete against other guests using the app and go head-to-head in Fast & Furious trivia games, including the finalist's alias being displayed on a leaderboard for everyone to see!
5. Ready, Set… Start Your Engines
Your final step is to enjoy the ride! Jump into your supped-up party bus to make your way to a race after-party that Dom invited you too. Unfortunately for you, things don't go quite as planned, and you will join the Fast & Furious family as you try to escape the clutches of criminal mastermind Owen Shaw.
Virtual Line will not always be needed to experience Fast & Furious – Supercharged. Check The Official Universal Orlando Resort App or with the Team Member at the front entrance to see if you can enter right then. There is a whole world of excitement to explore at the Universal Orlando Resort! Contact your Kingdom Magic Vacations travel planner today to plan your next trip to Universal Orlando or to wherever you are dreaming of exploring next!