Last summer at D23 we found out that Epcot would be receiving a new space themed restaurant! At the time however Disney did not release any details as to where the restaurant would be located which left many fans very curious and sparked many theories and predictions. Well now the location has been revealed for this new Space-themed restaurant coming to Epcot!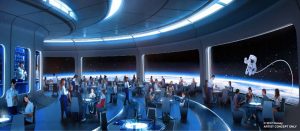 We found out at D23 that this new restaurant would be an immersive dining experience among the stars which would offer guests views "from high above Earth." We also learned that it will be operated by the Patina Restaurant Group. This restaurant group is known for being the creators of other favorite Disney restaurants such as Via Napoli and Tutto Italia! At the time of the restaurant's announcement, all Disney revealed regarding location was that the restaurant would be adjacent to the Mission: SPACE attraction. This information was very broad and left us Disney fans very curious as to where, exactly that meant!
Well, now we know! A new area is being developed just for the new restaurant, and it will be located between Mission: SPACE and another favorite Future World attraction, Test Track! Now that we have this clarity on the restaurants location we can't wait to hear more soon about what we can expect at this new dining location! From the concept art and what Disney has shared we know that the restaurant will be a very unique and out of this world experience! The space theme will give a futuristic vibe and fit into that part of Epcot very well!