Voodoo Doughnut has officially opened at Universal CityWalk at the Universal Orlando Resort! This unique doughnut shop features a line-up of more than 50 types of delightfully weird and sinfully delicious doughnuts! Voodoo Doughnut is known for their bold, offbeat and eclectic vibe. This doughnut shop originally based in Portland fits in perfectly to the exciting atmosphere of Universal CityWalk!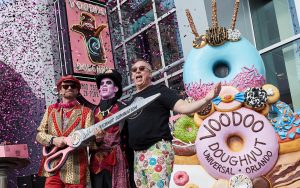 Voodoo Doughnut founders Kenneth "Cat Daddy" Pogson and Tres Shannon were there for the exciting opening moment! They also were joined by an exciting special guest! That's right, for the very first time ever live in person, Cat Daddy and Tres introduced The Baron of Voodoo Doughnut – the iconic centerpiece to the Voodoo Doughnut logo! With the whole gang present the celebration commenced for this one-of-a-kind shop!
If you look around the shop you will see many ties and references to the original Voodoo Doughnut shop located in Portland. We would like to share a few of these items that hold special significace in the Voodoo Doughnut story!
Portland Love
In front of the decorating counter you will notice the numbers 97204 written on the wall. This is the zip code for Portland, Oregon, home to Voodoo Doughnut's first location.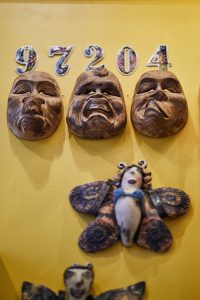 Duct Tape Art
It has become a tradition in every Voodoo Doughnut shop that an artist from Portland creates a unique display made fully from just duct tape! At the Orlando location, you will see a large duct tape mural of a Voodoo queen created by Mona Superhero.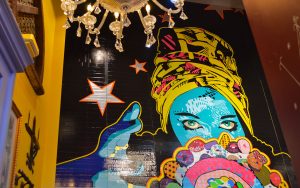 The Doughnut Throne
Exclusive at the Orlando location, guests can sit on a doughnut throne. The throne is made up of some of the classic doughnuts you will find inside Voodoo Doughnut, such as the Grape Ape, Bacon Maple Bar and Portland Cream. Also, you will notice the iconic Voodoo Doll doughnuts are holding up the throne.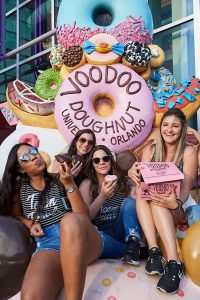 The Spirit Channelers
Also in every Voodoo Doughnut shop there is a "spirit channeler," represented by a velvet painting of a person that is from that specific location. Orlando's spirit channeler is none other than central Florida native Carrot Top!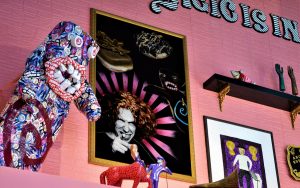 Be sure to look for these fun details on your next visit to Voodoo Doughnut!