Get ready because the rules of Halloween are returning this fall at Universal Studios Florida. Sam will be returning and making sure visitors all celebrate Halloween the right way in a brand-new Trick 'r Treat house coming to this year's Halloween Horror Nights at the Universal Orlando Resort. Last year marked the first time that Sam and his fellow trick-or-treaters came to Halloween Horror Nights. They made their Halloween Horror Nights debut in a terrifying scare zone. Fans loved the scare zone and instantly wanted more. Universal listened to their Horror Nights fans and partner with Legendary Pictures and writer-director Michael Dougherty again and bring 'Trick 'r Treat' back to Horror Nights this year in a brand-new experience.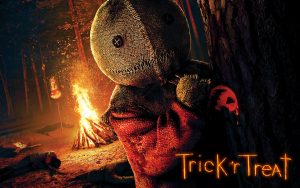 Universal will be giving 'Trick 'r Treat' it's very own house this year at Halloween Horror Nights. The new house will throw guests head first into the world of this cult Halloween film. Putting visitors right in the middle of all the grisly scenes and demented characters. These guardians of Halloween will teach Horror Nights guests the traditions of the holiday as they find out first-hand the consequences of breaking those rules. We are told there will be monsters around every turn, Guests will need to pay attention…or suffer the ultimate fate. We also hear that Sam himself will keep a watchful eye over it all. Sam is the keeper of the rules and the spirit of Halloween. He may look sweet and innocent on the outside but you don't want to get on his bad side or the receiving end of his lollipop.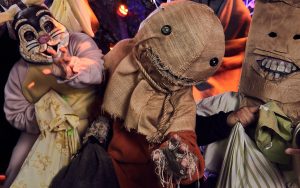 Trick 'r Treat is the third house that Universal has announced in their line-up for this year's Halloween Horror Nights. Six houses are still remaining to be announced as well as the thrilling details on this year's scare zones. Halloween Horror Nights starts Sept. 14 and runs select nights through Nov. 3.
Contact your Kingdom Magic Vacations Travel Planner today to plan your next vacation to Universal or wherever you desire to travel next!