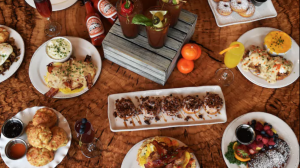 Get ready to rise and shine! Chef Art Smith's Homecomin' at Disney Springs has recently earned the spot as my favorite Disney Springs restaurant, a very high title given the amazing line up of eateries at Disney Springs! I just love everything about this place, the atmosphere, the southern hospitality and the incredible menu that keeps me coming back! The food is southern comfort food with a modern gourmet twist. Everything I have ever tried has always been absolutely incredible! One stand out favorite of mine is the fried chicken and donuts! Everyone has heard of fried chicken and waffles, well this is a new take on sweet and savory! Love it!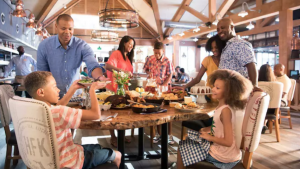 Given my love for this restaurant I was so excited this past week to learn that Homecomin' will soon have a new dining experience! Chef Art Smith's Homecomin' will soon be serving Sunday BRUNCH! The brunch will be called the "Rise 'n Shine Brunch"! Every Sunday, the "Rise 'n Shine Brunch" will be offered from 10:00 am – 2:00 pm. The regular full menu will also be available after 11:00 am as normal.
Offerings for this new brunch experience will include Fried Chicken and House-Made Sugar Doughnuts, Shrimp & Grits, Short Rib Hash, and an open-faced Big Biscuit topped with poached eggs, griddled country ham and house-made hollandaise sauce. Adult beverages will also be available including a White Peach Sangria, Mimosas, and "an over-the-top Bloody Mary with all the fixins'." Advance Dining Reservations are now open for reservation dates starting Sunday, June 10th.