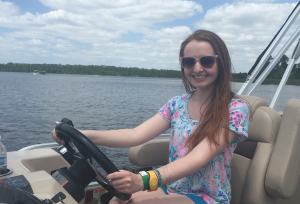 On my most recent trip to the Walt Disney World Resort my family and I did something brand new for all of us! We rented a boat and went for our very own cruise out on the waters of Disney's Bay Lake and Seven Seas Lagoon. Renting a boat is one of the many recreational offerings that are available to Disney World guests. Visitors can enjoy a number of different activities such as boat rentals, bike rentals, fishing, parasailing, water skiing, canoeing and more! Multiple Walt Disney World Resort hotels offer the boat rental, this includes all of the Magic Kingdom Resort hotels so you can easily take a break from the park and head to one of these hotels to rent your boat. You do not need to be staying at that resort to use their rental service.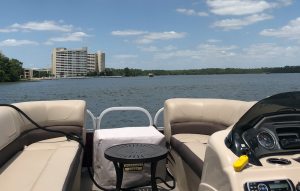 My family and I visited the boat rental location at Disney's Wilderness Lodge. We decided to rent a pontoon boat! My family really enjoys boating and we had always been interested in going for a cruise at our favorite place, aka Disney World! So this trip we made it happen and the experience did not disappoint! Pricing is scaled for the rentals based on how long you want to cruise. We choose to rent our pontoon for a half hour and this gave us the perfect amount of time to make a lap around Bay Lake and also a full lap of Seven Seas lagoon and then back over to dock at the Wilderness Lodge Marina.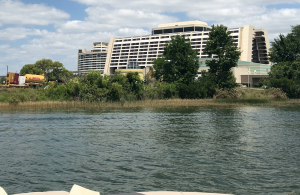 Along the way, we got to enjoy many breathtaking sights such as the Magic Kingdom entrance and in the distance the grandeur of Cinderella's castle! We also cruised alongside Disney's Contemporary, Disney's Grand Floridian Resort and Spa and Disney Polynesian Village Resort, all while those famous Walt Disney World Monorails kept passing overhead! Over on the Bay Lake side we sailed past Disney's Wilderness Lodge, Disney Fort Wilderness campground and even past the abandoned River Country USA – a very neat piece of Disney history!
For a family like us who frequents the Walt Disney World Resort this experience was new and unique! It truly was something we can all now cross off our Disney bucket list. For years we have seen those watercraft rentals out on the lagoon and talked about one day wanting to try it. Now we all can say we have! I even drove the boat for part of the time which was a very exciting experience for me! Prior to that moment I had never personally drove a boat and now I get to say my first time driving a boat was in Walt Disney World! How cool is that?!!
There is still time to plan an amazing summer vacation to the Walt Disney World Resort! Contact your Kingdom Magic Vacations Travel Planner today!