Voodoo Doughnut at the Universal Orlando Resort is one of the newest additions to the exciting line up of shops and restaurants at Universal's CityWalk. The new boutique doughnut shop has quickly become very popular! It is a tradition for the Voodoo Doughnut's company that they create a signature doughnut that is exclusive to each of their locations. This exclusive doughnut always represents the city the shop is located in. Given how popular Voodoo Doughnut became at CityWalk upon its opening, many fans heard that it was a tradition for Voodoo Doughnut to create an exclusive doughnut for each location. Everyone very quickly was on the edge of their seat wondering what they would conjure up for the Orlando location!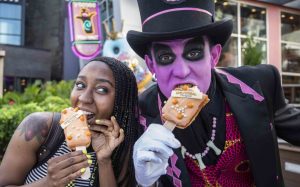 Well, we have exciting news, Voodoo Doughnut has unveiled a brand-new doughnut inspired by a classic summertime ice cream favorite. The Universal Orangesicle can only be found at the Universal Orlando Resort! This exclusive doughnut is covered in citrus frosting, topped with chocolate pearls and filled with Bavarian cream. To make it even better it is actually served on a popsicle stick! This one of a kind treat is now available every day at the Universal Orlando location.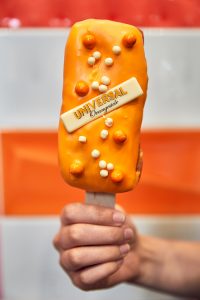 To create this Universal Orlando exclusive doughnut, the culinary team took inspiration from the sunshine state of Florida that is known for its iconic orange groves. They also added a popsicle stick to hold up this vibrant orange doughnut. When creating the Universal Orangesicle, Universal's culinary team worked closely with the founders of Voodoo Doughnut, Kenneth "Cat Daddy" Pogson and Tres Shannon. They made sure to stay true to the offbeat and fun vibe of the Voodoo Doughnut brand in the new doughnut creation.
Voodoo Doughnut is home to over 50 delightfully weird and sinfully delicious doughnuts! Be sure to try some on your next trip to Universal's CityWalk!