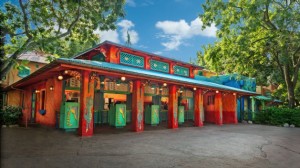 Flame Tree Barbecue located at Disney's Animal Kingdom Park holds the spot as my favorite quick service dining location in the park! I think this may even be one of my favorite quick service locations across all of Walt Disney World property! There are many reasons why this spot is ranked so high in my book. Here's a few of the things that make Flame Tree Barbecue stand out to me!
The Atmosphere!
What truly sets Flame Tree Barbecue apart for me is it's incredible and serene atmosphere! Some quick service dining locations can feel like a cafeteria setting. Here at Flame Tree the ambiance is the farthest thing from that! The dining areas are all beautifully landscaped and relaxing and many spots offer breathtaking views out into the park! There is also a huge quantity of seating here. Even on the busiest day in the park I have never had to struggle or wait to find a table. The seating area is tiered, as you travel down a winding pathway you will keep finding new seating outcoves. My favorite spot to sit is all the way at the bottom right next to the lagoon. Across the water, you can see Expedition Everest and as you enjoy your meal watch riders journey up and back down the mountain. It's a lot of fun!
The Food!
Of course, to be considered one of my favorite dining spots you know the food quality needs to be amazing! The food here at Flame Tree Barbecue is always outstanding. The meat is always so tender and deliciously seasoned. I have tried many menu items here and have always enjoyed everything I ever ordered. However, my favorite offering that I keep coming back to time after time would have to be the pulled pork sandwich! It is a winner every time!
The Value!
For a quick service dining location, I truly feel like this is a high end quick service, making it an incredible value. Given the food quality and the relaxed setting I feel like this experience is closer to the feel of a table service meal. If you are on the Disney dining plan you can also use your dining credits here at this location!
Take a closer look at why I love Flame Tree Barbecue so much in our new YouTube video! Be sure to subscribe to our channel for more exciting Disney and travel videos!