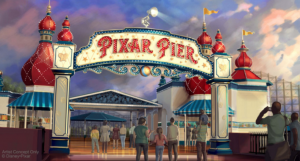 Disney has revealed more details for Pixar Pier, the new land coming to Disney's California Adventure Park! These details include new information on the reimagining of the piers' roller coaster and lounge.  The section of California Adventure formerly known by park goers as Paradise Pier has been closed since this past January. This part of the park is reopening VERY SOON on June 23 as Pixar Pier! Pixar Pier will feature characters from popular Pixar films including, "The Incredibles," "Toy Story," "Up," "Finding Nemo," "Inside Out" and "Coco." The Piers main two attractions, the former California Screamin' roller coaster and Mickey's Fun Wheel, Ferris wheel are both getting a face lift! The two attraction will both be receiving an entirely new theme and backstory.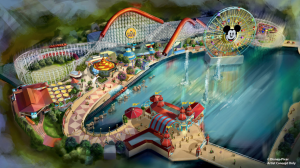 Pixar Pier will be made up of four "neighborhoods" each based off of a Pixar movie! Here are some details we know so far about what we can look forward to on Saturdary June 23rd – the opening of Pixar Pier:
Incredibles Park
What was California Screamin' is being reimagined into the Incredicoaster. This will be themed after characters from Disney Pixars' "The Incredibles" movies. We have heard that baby, Jack-Jack's shenanigans will drive the backstory of the revamped Incredicoaster. Guests will enter a new building featuring a modern glass façade. Once in the que line guests will be told the backstory of the ride. The story goes that the Incredibles family is there to inaugurate the roller coaster for their town of Municiberg, as with any story some trouble is sure to arise, in the process of the rollercoaster inauguration, baby Jack-Jack escapes his babysitter and sprints around the roller coaster.  The coaster track will remain the same as it was with California Screamin'. The former scream tunnels, are now completely enclosed, inside these tunnels projection technology will allow Disney to use their magic and tell the story of the mischievous Jack-Jack's escape.  Throughout the ride, various Incredibles family members try to catch baby Jack-Jack. During the journey, Jack-Jack's brother and mother both attempt to catch him and fail. In another tunnel, Mr. Incredible bursts through the walls and uses a cookie to try to lure baby Jack-Jack. As guests ride through this scene they will actually get a whiff of a cookie scent! This effect is sure to be amazing! If this scene makes you crave this delicious treat, don't worry! We hear that guests will actually then be able to purchase cookies at the exit! That's right! You can buy a brown deep dish butter cookie, served fresh and warm, along with flavored milk at Jack-Jack's Cookie Num Nums, a cart located where previously the Photo Pass display for California Screamin' use to be.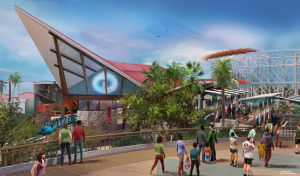 Inside Out
Not that many details have been released about this new Inside Out area. So we can't wait until the opening! We do know that a new ride is under construction to open at a later date, but no details have been released.
Pixar Promenade
This neighborhood features the Pixar Pal-Around, the Ferris wheel previously known as Mickey's Fun Wheel. This Ferris wheel is a park icon and offers amazing views over top the park! The Ferris wheel has been repainted and rethemed. The icon image of Mickey Mouse will remain at the wheel's center. Each of the 24 individual gondolas of the Ferris wheel have been repainted with a Pixar character design. These designs include such characters as WALL-E, Miguel from "Coco," Lightning McQueen from "Cars" and Joy and Sadness from "Inside Out."  The boardwalk arcade games found in this area will remain but receive new themes! These themes including La Luna Star Catcher, a fishing game from the Pixar short film. Heimlich's Candy Corn Toss from "A Bug's Life." WALL-E Space Race from "WALL-E." And "Bullseye Stallion Stampede, a horse racing game with a "Toy Story" theme!  For food in this neighborhood, 'The Angry Dogs' stand will serve hot dogs and chips, themed to Anger from "Inside Out."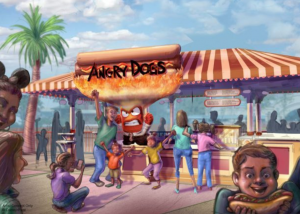 Toy Story Boardwalk
This neighborhood includes the existing Toy Story Mania! ride and will soon be home to Jessie's Critter Carousel in 2019. This ride will give a new them to what was the King Triton's Carousel. Dining locations are designed to make guests feel like a child! Food locations include the 'Poultry Palace', this location will serve turkey legs and more from an oversized carton of chicken. Señor Buzz Churros will be themed to Buzz from Toy Story and serve up sweet treats.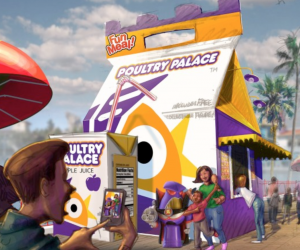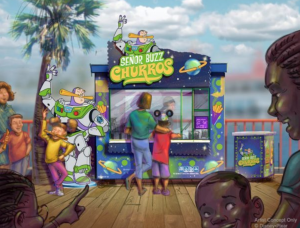 More Food and Beverage Locations!
The new Lamplight Lounge will take the place of the former space for the Cove Bar, this new Lounge will open along with the area's grand opening on June 23rd! We hear the lounge will have a California gastropub vibe to it. Lamplight Lounge will have 2 levels to it. Downstairs will be by reservations and the upstairs will be walk-in only.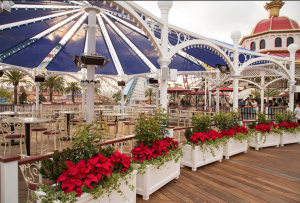 Bing Bong's Sweet Stuff candy store, will open sometime after the June 23rd grand opening date. This confectionary shop will sell saltwater taffy, candied apples, slushies and cotton candy in a rainbow design on a stick that looks like a unicorn horn. A large sculpture of Bing Bong from "Inside Out" will be present in the shop!
Adorable Snowman Frosted Treats has already opened and has already become very popular.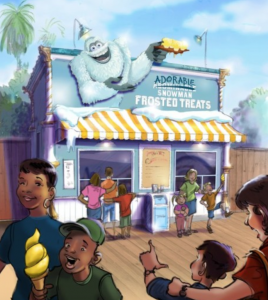 Pixar Pier officially opens Saturday, June 23rd! There is still time to plan an amazing summer vacation at the Disneyland Resort! Be sure to contact your Kingdom Magic Vacations Travel Planner today! We are excited to bring your vacation dreams to life!