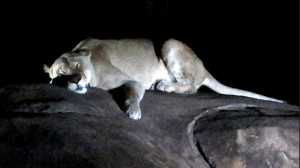 On a recent visit to Animal Kingdom during my Walt Disney World vacation, my family and I got to ride one of our favorite attractions, Kilimanjaro Safari! Here guests board a safari truck and adventure through Disney's own African wildlife preserve! This one attraction is actually the size of the Magic Kingdom theme park itself! This attraction is always on the top of my list every time I visit Animal Kingdom, and for good reason! You will never experience the same safari twice! The animals themselves are who make this attraction a one of a kind experience each time. You never know which animals will be the most active or how close they will come to your truck. Because of this every time you ride, it feels like the first time!
About a year ago coinciding with the opening of Animal Kingdom's newest land, Pandora the World of Avatar, Animal Kingdom extend their park hours to be open during the evening. Previously Animal Kingdom would always close around 5:00 each day. When the park began offering these new evening hours they rolled out a brand-new experience, the opportunity to ride Kilimanjaro Safari at night!
During my recent trip my family and I got to experience this nighttime safari for the very first time. Through the savannah, Disney puts certain back lighting to help you be able to spot the animals in the dark. These lighting effects are supposed to simulate sunset. I thought the experience was very cool to see. Some of the animals are more active at nighttime so you get to see a different side of them then during the day. Honestly at times it was very dark and hard to see some of the animals but like I said the payoff was being able to see some animals that are never up much during the daylight. Overall I would say if you are planning to ride this attraction for the first time definitely see it during the day to get the true experience. But if you are like me and love the safari and have done it several times in the past then this new nighttime experience is definitely something you will appreciate!
Watch my full night time safari in our new YouTube video!