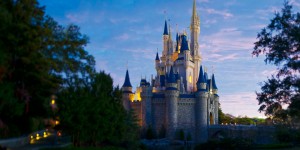 In my travels to Walt Disney World I have discovered a few ways to save some money while in the parks and who doesn't like to save money!?
A big area to try to save money is on food and drinks in the parks.  Food can be a large part of your Disney vacation budget.  I always stop at a local grocery store to pick up cases of water, snacks and especially quick breakfasts that I can eat in my room before heading out to the park.  Eating at least one meal in your room can really save a lot of money.  If you do not have a rental car to get out to a store you can use one of the local grocery delivery services.  There are a few of these companies in the area.  You can place your order on line and the food will be delivered to your hotel.
I usually eat breakfast and then I head out to the parks and I plan to eat a late lunch.  Eating at lunch in Disney sit down restaurants can save you money.  The lunch menu items are usually cheaper than the same items on the dinner menu.  This late lunch usually fills me up and I only need a light snack later in the day and of course a Disney treat like a Dole Whip!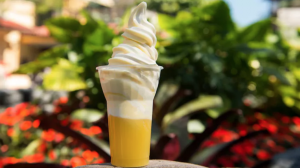 Also, consider sharing a meal.  Disney portions are usually very large and in many cases can be plenty to feed two.  My mom and I usually always share especially at counter services when we get a sandwich.  Splitting a sandwich and the sides works out great for us and saves a lot of money.  If you have kids and are eating breakfast at your hotel counter service or in the parks consider ordering one adult breakfast meal and sharing it between two children.  One adult breakfast is less expensive than two kid's meals.
Florida is very hot and you need to keep hydrated but buying water bottles in the parks all day can get expensive especially when buying them for your whole family.  Instead, you can go to any counter service restaurant and ask for an ice water and they will give you an icy cup of water for free.  Bring your insulated thermos to poor this free water into and it will stay cold as you walk around the parks.
Also, try to avoid soft drinks, which do not help to hydrate you and can be pricey.  However, if you are really craving a soft drink and are in EPCOT head over to Club Cool where you can sample different flavors of soft drinks from around the world free.
Most important is getting a good package deal.  Contact a Kingdom Magic agent who will know all the special deals that Disney is offering and can help you book your next trip.
Hope you enjoyed learning about some of the ways you can save some money on your Walt Disney World vacation!