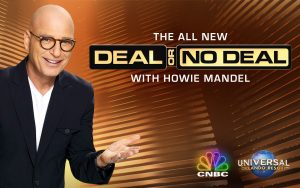 Deal or No Deal is making its triumphant comeback and we have exciting news to share! You can be in the audience! CNBC and popular host Howie Mandel are teaming up to produce 30 brand new episodes of the hit game show! The show will be filmed right at the Universal Orlando Resort! You can cheer on the show's contestants in their battle against The Banker.
If you are interested in being a part of this thrilling TV taping you can click on the following link to grab your tickets to be a part of the live studio audience!
http://on-camera-audiences.com/shows/Deal_Or_No_Deal
The minimum age to attend the show's filming is 13. Any guests attending under the age of 18 will need to be accompanied by a parent or legal guardian. No one under 13 will be admitted. This is an incredible opportunity! Imagine getting to tell your friends and family you were a part of a TV show filming! Deal or No Deal is known to be one of the most exciting and suspenseful game shows on television. In the show contestants test their luck in the hope of winning the top prize or they accept a tempting cash offer. Should they play all the way through, their fate is sealed in one of 26 sealed briefcases that contain a value from $0.01 to $1,000,000. The new season will include 30 new one-hour episodes, and it will join CNBC's primetime lineup airing at the end of 2018!
Are you ready to plan your trip to the Universal Orlando resort and be a part of this incredible opportunity? Contact your Kingdom Magic Vacations travel planner to book your next great adventure to Universal Orlando or wherever you desire to go next! We are excited to make your travel dreams a reality!