Is singing your passion?! Have you or someone you know always dreamed of being a star?! Well we have very exciting news! You can have your big break right at the Walt Disney World Resort!  On Saturday, August 25, ABC's hit show, "American Idol" will begin its talent search in over 20 cities! The show's search for the next American Idol will kick off with the Idol bus pulling up right at Disney's ESPN Wide World of Sports Complex at Walt Disney World Resort!
During the auditions at the ESPN Wide World of Sports complex, ABC's "American Idol" Season 1 winner Maddie Poppe, runner-up Caleb Lee Hutchinson and finalist Catie Turner will all be present making special appearances!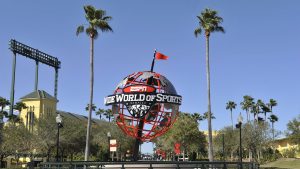 Early arrival for auditions is encouraged. Parking will be available as early as 4 a.m., but not before. Registration will start at 7 a.m. followed by auditions starting at 9 a.m. Be sure to bring water, sunscreen and a hat to stay out of the sun while waiting for your audition. All aspiring singers must be at least 15 years old in order to audition. Those auditioning can bring one guest to accompany them, the guest must be over 5 years old. Pre-registration is encouraged. To Pre-register and for more details, you can visit www.americanidol.com/auditions.
"American Idol" bus tour auditions will begin on the same day in San Diego, California, with a second Idol Bus joining the nationwide search for a star! In addition to auditioning in person, aspiring talent can submit audition videos online at www.americanidol.com/auditions or by posting their talents to Instagram, Facebook, Twitter or Musical.ly using the hashtag #TheNextIdol.
Walt Disney World is known for being the place where dreams come true! Which makes it the perfect backdrop to let your dreams of stardom become a reality! Contact your Kingdom Magic Vacations Travel Planner today to plan your visit to the Walt Disney World Resort and audition for "American Idol"!