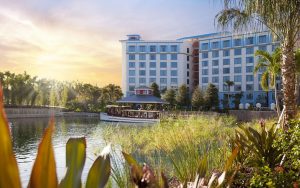 You know the old saying, 'The early bird gets the worm!' Well in this case the early bird gets the thrills! When staying at the Universal Orlando Resort it pays to be an early riser! An amazing perk of staying on-site at the Universal Orlando Resort is being among the first to access the Universal theme parks with Universal's Early Park Admission.
This Universal resort benefit gets you into the parks an entire hour before the general public! This bonus time allows you and your family to take in everything the Universal parks have to offer with limited crowds! This means you can enjoy shorter wait times at some of the park's most popular attractions!
Taking advantage of Universal's Early Park Admission is especially beneficial during the hot summer months in Florida. Wake up early and go straight to the parks! Enjoy everything Universal has to offer and hit up the rides you are most excited for. Then during the heat of mid-day head back to your Universal Resort and relax. Take this time to escape the sun, enjoy the pool, grab a bite to eat, then you can plan to head back to the parks for more fun in the evening!
Using Universal's Early Park Admission has many benefits to it when it comes to getting the most out of your vacation! Another great reason to stay at a Universal Orlando Resort Hotel! Our team at Kingdom Magic Vacations is excited to help you plan your next vacation to Universal or whatever destination you are dreaming of next! Our teams' knowledge and recommendations will guarantee you and your family have the vacation of a lifetime!