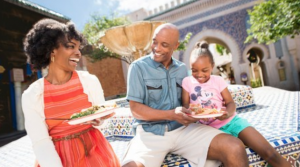 The 2018 Epcot International Food and Wine Festival has officially begun at the Walt Disney World Resort! This annual festival is a fan favorite for many Disney park goers! At the festival guests get to sample tastes of food and beverage items from all around the world! The event is fun for all ages and every year Disney always takes the festival to the next level by introducing new activities, experiences and of course new culinary offerings! This year's festival runs from August 30th through to November 12th! I myself will be heading to the event in a few short weeks with my family and we are all counting down the days! There are many new things that I am looking forward to trying! Here are my top 3 new things I am excited to try at this year's Epcot International Food and Wine Festival!
Shimmering Sips Mimosa Bar
Shimmering Sips Mimosa Bar is a brand-new offering coming to the festival this year! It is home to a wide variety of specialty mimosas. Looking at the menu, I am personally most excited to try the Tropical Mimosa and the Key Lime Mimosa. The Tropical Mimosa features Sparkling Wine and Pomegranate, Orange and Grapefruit Juices. The Key Lime Mimosa features a Key Lime Sparkling Wine and Cranberry Juice! Also at the Shimmering Sips Mimosa Bar, kids can enjoy the non-alcoholic, Frozen Apple Pie!
Candy Sushi Culinary Workshop
This hands-on culinary workshop is brand new this year! During the experience, you join a Disney Chef and learn how to make your own sweet Candy Sushi! Sessions for the experience take place daily at 3:30 and 5:30 pm inside Sunshine Seasons in The Land Pavilion. For the past several years the Epcot International Flower and Garden Festival that takes place in the Spring in Epcot, has been home to "Frushi"! This dish is fruit sushi and it has gained a major fan following over the years. To me this experience sounds like we will get to create this confectionary style sushi ourselves! I am very interested to see what the experience is all about! Space is limited for this experience so be sure to sign up ahead of time at TasteEpcot.com. The experience is completely free to guests but your signup will require a credit card guarantee, similar to making a Disney Advance Dining Reservation.
RGB Flight at the Light Lab
Last year's Epcot International Food and Wine Festival saw the Introduction of the Light Lab. The Light Lab can be found inside of Innoventions in Epcot's Future World. This scientific themed lounge offers unique beverages that all have a scientific and creative spin on them. Throughout the lab there are displays showing how sight can affect our taste and the way we preserve foods. The Light Lab is coming back for it's second year and its bring with it a brand-new item the RGB beer flight! Those who are familiar with computers will know RGB (Red, Green and Blue) stand for the three colors that combine to make up all colors we see on a computer display! The RGB flight will feature 3 beers. The beer will actual each be colored red, green and blue. These colorful beers are, (Red) Playalinda Brewing Co.'s Red Cherry Tart, (Green) GrassLands Brewing Company's Green Kiwi Blonde, and (Blue) M.I.A. Beer Company's Blue-berry Golden Ale. This concept is so fun and I am excited to try it out for myself!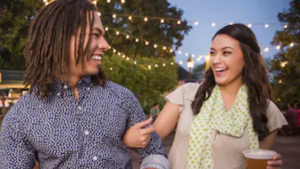 What are you most excited for at this year 2018 Epcot International Food and Wine Festival?! There is still time to plan an amazing fall trip to Walt Disney World to experience this year's festival for yourself! Contact your Kingdom Magic Vacations Travel Planner today to start planning!