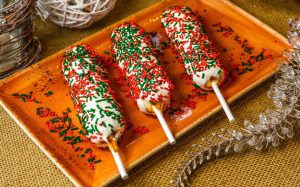 The holiday season is upon us! This season is filled with decorating, celebrations, parties and of course… FOOD! Food plays a big role in many of our holiday celebrations and festivities! What better way to rejoice in this wonderful season than spend time with those you love and enjoying some of your favorite treats! You get the picture! Holiday foods and goodies are an iconic part of our holiday season and Universal Orlando Resort has you covered!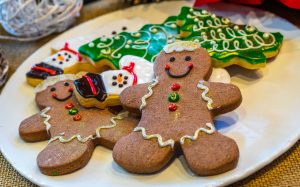 Let's take a look at the festive food and beverage offerings now available for the holiday season at Universal Orlando! These items can be enjoyed now through January 6, 2019!
Holiday Treats!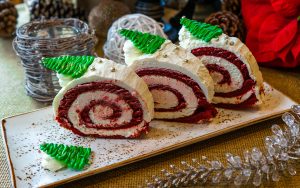 A popular holiday treat this year is the Red Velvet Yule Log. The red velvet adds a fresh twist on this holiday classic!  You can find this treat in Universal's Islands of Adventure at Croissant Moon Bakery. You can also find this festive favorite in Universal Studios Florida at Beverly Hills Boulangerie and San Francisco Pastry Company.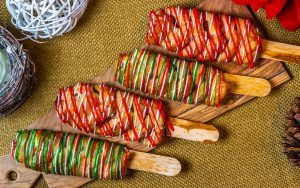 For many apple strudel hot from the oven is a holiday staple! Universal has put a spin on this holiday classic by putting it on a stick and adding a drizzle of frosting! Be sure to try this treat for yourself in Universal's Islands of Adventure at Croissant Moon Bakery. You can also find it in Universal Studios at Beverly Hills Boulangerie and San Francisco Pastry Company.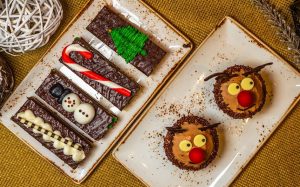 Additional treats include reindeer cupcakes, waffles on a stick, cheesecakes, ribbon pastries and an array of classic sugar cookies! All of these goodies can be found at multiple locations throughout the parks!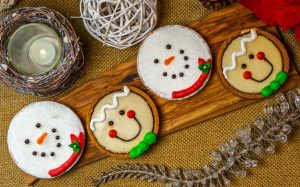 Festive Sips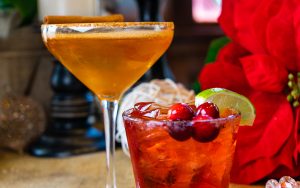 With all these amazing holiday treats, you are going to want a festive beverage to wash it all down! Here are some of the new holiday drinks that have premiered this year.
Cranberry Margarita
First up we have the Cranberry Margarita. This holiday margarita can be found at Finnegan's Bar & Grill in Universal Studios and at Mythos over at Islands of Adventure.
Ingredients: Tequila, orange liqueur, lime juice and cranberry juice shaken and served on the rocks. Garnish with a lime wedge, fresh cranberries and a sugar/salt rim.
Pumpkintini
Next up is the Pumpkintini! This fun pumpkin martini can be found at Mythos in Islands of Adventures.
Ingredients: Dark rum, orange liqueur, apple cider and pumpkin puree garnished with a cinnamon sugar rim.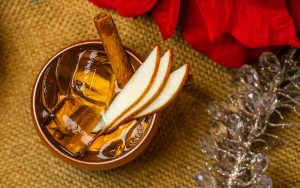 Apple Cider Irish Mule
Another favorite, the Apple Cider Irish Mule! This can be found at Lombard's Seafood Restaurant in Universal Studios.
Ingredients: Irish whiskey stirred with apple cider, topped with ginger beer and a cinnamon stick and apple slices for garnish.
You can also find a Harvest Margarita with great pumpkin and apple flavors when visiting Confisco Grille! Find an Apple Pie on the Rocks – a blend of vanilla vodka, apple juice and cinnamon at Finnegan's. Discover the Jack Frost with vodka, prosecco mixed with lemonade and a sugar rim over at Lombard's and Confisco Grille.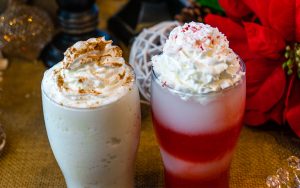 Universal also has some festive non-alcoholic drinks. Guests can enjoy the Candy Cane and Eggnog frozen beverages, hot cider or hot chocolate! These beverages are all served park-wide at all the food & drink carts.
There are so many delicious treats to discover this season at the Universal Orlando Resort! Contact your Kingdom Magic Vacations Travel Planner to plan your next visit!