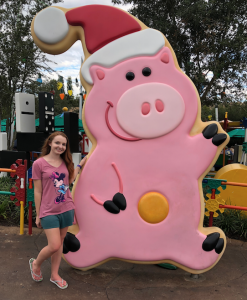 This past summer on June 30th 2018, Toy Story Land officially opened at Hollywood Studios at the Walt Disney World Resort! The new land's opening had been long awaited for by fans and since the grand opening many visitors have been having a blast in Andy's backyard! Here you can play interactive carnival games in Toy Story Mania, take a spin on Alien Swirling Saucers, race through the backyard on Slinky Dog Dash coaster, meet your favorite Toy Story characters and more! It is safe to say that this new land has become an instant hit with park goers! With this year being Toy Story Land's first Christmas, many guests were curious what Disney was going to do regarding Christmas decorations in the land! With all the impressive design elements and details that can be seen throughout Toy Story Land year-round, everyone knew Disney was going to pull out all the stops when it came to Christmas decorations, and they did!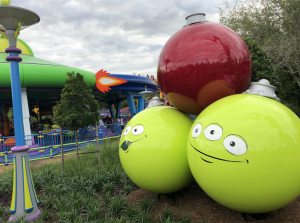 The Holiday displays that can be seen throughout Toy Story Land are so fun and truly tell a story! There is everything from large displays such as the giant sugar cookie shaped like Ham to little details like reindeer antlers on Rex! Here are a few of my favorite Christmas decorations from Toy Story Land!
Decorations on the Character Figurines!
Disney really did think of every detail when it came to decorating Toy Story Land for Christmas! Many of the giant figures of the Toy Story characters that can be seen throughout the land have been adorned with festive attire. As soon as you enter the land you will notice that Woody is wearing a Christmas scarf! My favorite character addition is the reindeer antlers on Rex! What I love about this is the reindeer antlers give the impression they are cut out of cardboard and colored in with a crayon! Like so many things in Toy Story Land there are tons of references to everything being created by Andy himself as he was playing with his Toys! It is the things like this that remind us all of our own childhood and the games we loved to play and create!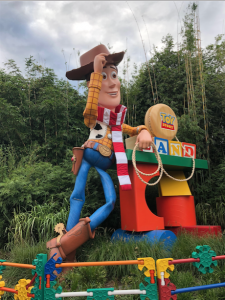 Characters Outfits!
Not only do the figures get holiday touches but the real meet and greet characters that roam through Toy Story Land also get festive touches to their outfits! Woody and Jessie have Christmas vests, Buzz has a Santa hat on top his head and the Green Army Men are all wearing holiday scarfs!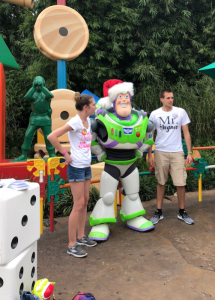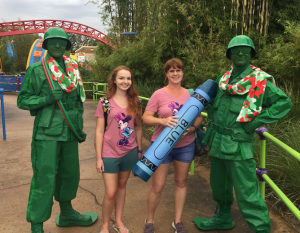 Green Alien Baubles
Out front of the Alien Swirling Saucer attraction you will find a stacked display of three massive Christmas ornaments! 2 of which are decorated to look like the Little Green Aliens! There is an additional bauble like this that can be spotted near the rides exit!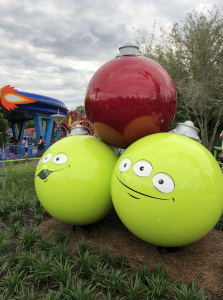 Ham Sugar Cookie!
This display is my favorite of all the Toy Story Land decorations! The thing to remember with Toy Story Land is that we ourselves are shrunken down to the size of a toy, so everything is scaled to how toys would see! With that in mind this sugar cookie is gigantic! It is decorated with frosting to look like Ham wearing a Santa hat! What I think is so fun about this decoration and the reason it is my favorite is actually the detail behind the display. If you peak behind the cookie you will see that the Ham cookie is being held up by a Green Army Man! This is one of the many ways that the holiday pieces in Toy Story Land are not just decorative, but they also tell a story that ties into the land itself!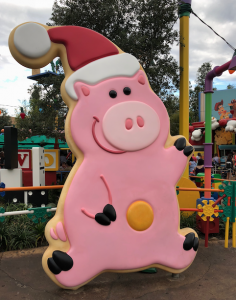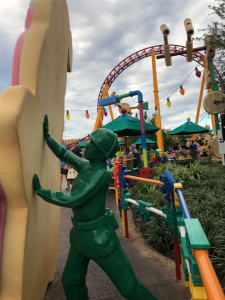 Ride Overlays
What is incredible about the Holiday enhancements in Toy Story Land is that Disney is not just adding decorations they are bringing additions to your entire experience in the land! This includes Christmas overlays on the attractions! On Alien Swirling Saucers, new Christmas soundtracks have been added as onboard ride songs and will play at random in the rotation of music that guest can experience during their ride! When I rode the attraction with my family we did not get one of the holiday songs. However, we did get to see one of the holiday sets as we were waiting in line. It is very adorable! The lighting effects during these sequences are also red and green to go along with the holiday music! The Slinky Dog Dash Coaster also has some Holiday themed audio bits that can be heard as you ride the attraction!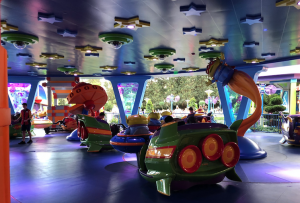 I was so impressed with all the enhancements that Disney made in Toy Story Land during this Christmas season! I filmed my experience getting to see all of the holiday decorations and overlays for the first time! You can watch my experience in our new YouTube video!
Looking for the perfect gift to give your family this holiday?! Give the gift of a Walt Disney World Vacation! Your loved ones will remember the memories made during your trip forever! Contact your Kingdom Magic Vacations Travel Planner today. Our team of travel professionals are excited to help you plan the vacation you have been dreaming of!