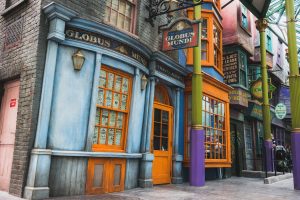 There is a brand-new shop that can now be found inside of the Wizarding World of Harry Potter at the Universal Orlando Resort… Globus Mundi! This store has our team of Travel Professionals so excited because it hits close to home for us! This store is themed to a travel agency!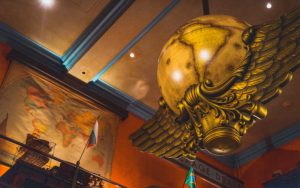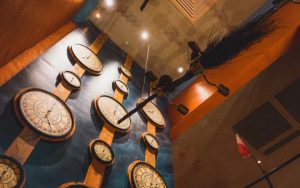 The shopfront of Globus Mundi as well as the stores interior are all themed to a travel agency in the Wizarding World! The shop sells a wide selection of Harry Potter merchandise as well as many travel accessories! Whatever destination you are visiting, this shop has something for all your travel needs!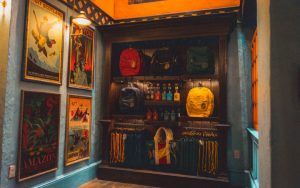 The Globus Mundi shop is located across from Carkitt Market. When you first enter the store through the bright orange door, the first thing you will soon notice is all of the attention to detail! You will spot a towering wall of ticking clocks all representing the different time zones. You will also see colorful city posters from around the world, as well as a number of world maps. The Globus Mundi Travel Agents made sure to showcase all of these amazing destinations.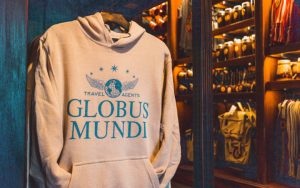 Here at Kingdom Magic Vacations all of our Travel Planners will tell you that travel preparation is key! Throughout the store, you will find all new exclusive traveling accessories such as luggage tags, wallets, sweatshirts, coffee mugs and more. Globus Mundi has everything you need to make traveling a little more memorable!
Globus Mundi will give you an insight into the vast possibilities of travel within The Wizarding World of Harry Potter. With the incredible level of attention to detail and large selection of travel accessories, exploring the shop will get you excited for your next travel plans… and when that time comes to plan your next vacation, you don't need to travel to the Wizarding World to find magical travel planners! Simply contact your Kingdom Magic Vacations Travel Planner! Our team will use their knowledge to help you and your family plan your next magical adventure!