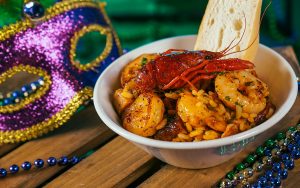 It's that time of year! Universal Orlando's Mardi Gras is days away! We are so excited for the return of this amazing event this year! Now is the perfect time to take a look at all of the food and beverage items that you can look forward to enjoying at this year's event! You can anticipate many wonderful Cajun dishes and several delicious signature drinks from Universal's Mardi Gras! You can look forward to enjoying both new and returning favorites daily in the French Quarter Courtyard which can be found in the New York area of Universal Studios Florida starting at 4 p.m. from Feb. 9 – April 4.
A change that is brand new this year, all food and beverage items will be served in smaller tasting sizes. This is so exciting because smaller portions means a chance to try a taste of EVERYTHING. Let's take a closer look at a few of the items you can enjoy!
Crab Etouffee
A classic etouffee dish with rice and crab coated in a savory sauce.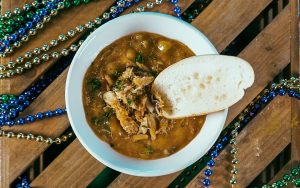 Catfish Po Boy
Fried catfish po boy with a crisp slaw and hot sauce, served with kettle chips. Also, new this year is the shrimp and andouille sausage po boy and chicken po boy!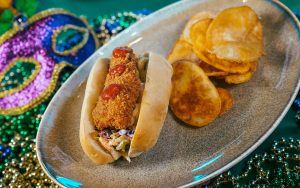 King Cake
A New Orleans classic treat!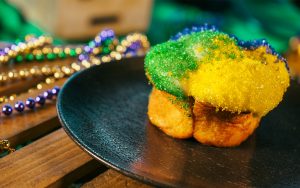 Returning this year are the authentic classics we all know and love including Gumbo, jambalaya (available without shrimp), red beans and rice (available without shrimp) and beignets. Additionally, you will also be able to get twisted taters but with a new Cajun seasoning twist!
Gumbo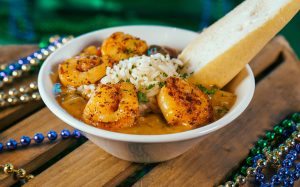 Beignets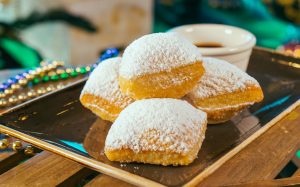 Shrimp and Andouille Sausage Po Boy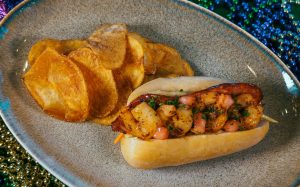 Also, this year will see the premier of many new drinks to quench your thirsts in between all of the delicious food!
Specialty Drinks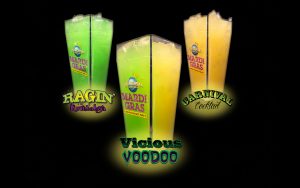 There is a large variety of new specialty cocktails you can try in the French Quarter:
Mimosa Bar: Also, brand-new to this year's event is a bar dedicated to Mimosas! You will get to try unique flavors of mimosas such as caramel apple, raspberry rosemary, mojito mint and more.
Signature Drink: If you are looking for a non-alcoholic drink option, check out the Bayou Bog Water! This drink is complete with gummy worms and fish, blueberry boba beads and a lemonade and ginger ale mix.
Other specialty drinks include:
Carnival Cocktail
Ragin' Rumbalaya
Vicious Voodoo (a combo of the two above!)
And a wide variety of craft beer selections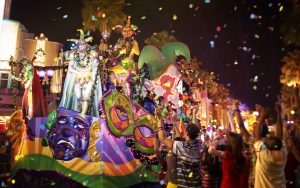 You can be a part of all of the Mardi Gras festivities daily at the Universal Orlando Resort beginning February 9, 2019! This year's event will run through April 4, 2019! See you there!
Contact your Kingdom Magic Vacations Travel Planner today to plan your visit to the Universal Orlando Resort!