This past Monday February 25 marked the final day of the Epcot International Festival of the Arts for this 2019 season. This year was my first time getting to attend the event and now I am counting the days until the 2020 Festival of the Arts! I loved every aspect of this festival and have so much I am excited to share. So far here on our blog I have loved showing you our search for Figment during Figment's Brush with the Master Scavenger Hunt and sharing my recap of my top 5 favorite moments from the festival! Now I am so excited to take you on my full journey at the festival from the beginning all the way through our vacation! In the coming days, here on our blog and on our YouTube channel I will be sharing my full Festival of the Arts experience in video form!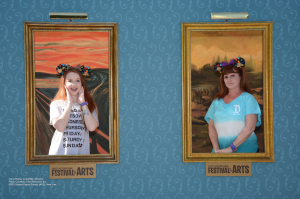 I vlogged each day that my family and I visited the 2019 Epcot International Festival of the Arts and from all the footage I am going to share each moment with you through a multi-part video series. Here is what you will see in part 1:
On our first full day of our trip my family and I were ready to take on our first ever day at Epcot's Festival of the Arts! We entered Epcot through the International Gateway entrance, this is a side entrance to the park that will bring you right into World Showcase! We had spent our morning at Disney Springs so we decided to take a bus to Disney's Boardwalk Resort located in the Epcot Resort area and then walk to the park through the International Gateway. Since most of the offerings for this festival can be found around World Showcase, this entrance was a great way to dive right into the action!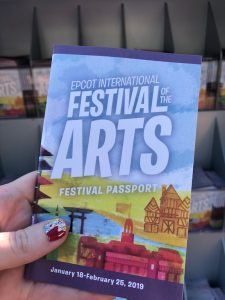 First before starting anything else we stopped to grab a festival passport as soon as we came in the gate! The festival passport is a staple item at every festival that Epcot puts on. Inside this little booklet, you will find a guide to all the offerings that the event has to offer. You will see information on entertainment offerings, full menus for each festival marketplace and more! Once we grabbed our passports we made our way into our first World Showcase pavilion, the United Kingdom! Alice was in the middle of her Meet and Greet and this was when I spotted one of the first sights of the festival! Alice was greeting guests next to an easel that had a canvas with a painting of the White Rabbit! During festival of the Arts all of the characters who meet throughout the World Showcase will have a piece of art with them! It makes for a very cute photo op!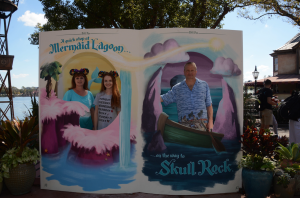 Speaking of photo ops, this brings us to one of the next festival offerings we came across, the "Artful Photo Ops!" Throughout Epcot you can find special photo ops that depict many famous works of art. You and your family get to step inside these masterpieces and become part of the work of art yourself! It is so much fun! The first festival photo op we came across was located between the United Kingdom Pavilion and the Canada Pavilion. This set up looked like an open storybook with scenes from Peter Pan. One page was the Mermaid lagoon and the other page was Skull Rock! Also while we were in the United Kingdom we came across our first visual art decal. These decals can be found throughout World Showcase, they create the impression that they have been painted on the side of the building! They are great pieces of visual art!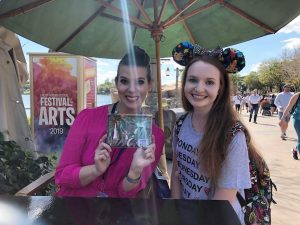 We continued our walk around World Showcase and soon came across our first Art of Disney stand! Throughout all of Epcot you will find tents set up selling wonderful art pieces! Throughout the festival, the artists themselves will come to do signings of their work and meet guests. The first art gallery we came across was the WonderGround Gallery. We had a very magical moment happen here because this very first gallery we came upon happened to have an artist there right then! As we approached closer I realized it was Ashley Taylor! Ashley creates incredible Disney Inspired Art and I love her work! I was able to purchase a print and get it signed by her. She was so sweet and lovely to chat with!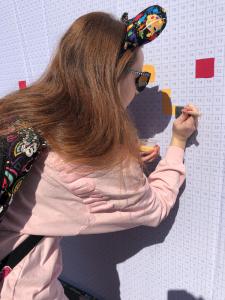 We explored a few more galleries and then made our way to the Expression Section: A-Paint-by-Number Mural! This massive mural is a larger than life paint by number that comes to life through the help of Epcot guests! All guests can do their part in painting this work of art! We got our paint and were assigned 5 squares to paint. After my family and I painted our squares we turned in our paint and paintbrush and the cast member handed us a postcard that showed the finished product of what the mural will look like upon completion! It is a very fun keepsake to take home with you and remember your vacation!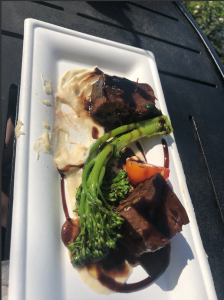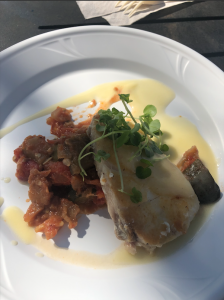 After painting we began getting hungry and were ready to explore the culinary arts sector of the festival! We continued our walk around World Showcase and looked at the multitude of festival booths we saw along the way. We ended up trying our first two food items from 'Cuisine Classique' located by the Germany Pavilion. From here we tried the Red Wine-braised Beef Short Rib with Parsnip Puree, Broccolini. Baby Tomatoes, and Aged Balsamic. We also tried the Seared Corvina with braised Ratatouille and Lemon-Thyme Beurre Blanc. Spoiler Alert! We gave both of these dished a 5 out of 5 on our rating scale! They were delicious and plated with such artistry and attention to detail!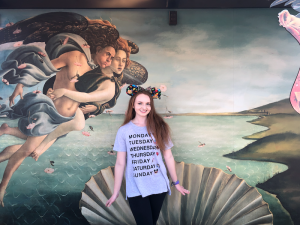 We found some more art photo ops including The Birth of Venus, The Scream, The Mona Lisa and Washington Crossing the Delaware! We also spotted several more of those fun art decals including Timon and Pumbaa, Pascal and more!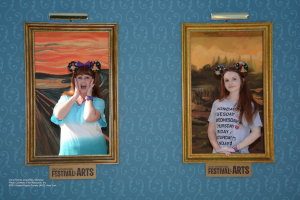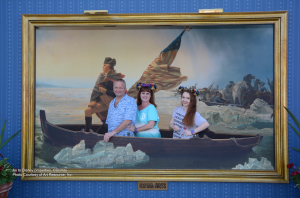 From The Artist's Table in the American Adventure Pavilion we tried our next two festival food items. We had the Beef Wellington with Mushroom Bordelaise, Fennel Cream, and Roasted Baby Vegetables. We also had the Pan-seared Scallop with Chorizo, Roasted Red Pepper Coulis, and Parmesan Crisp.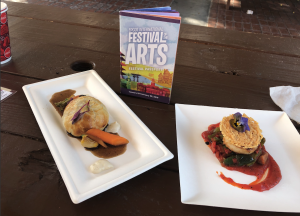 We then took a walk through my personal favorite shop in the World Showcase, Japan's Mitsukoshi! Inside the store they had some special merchandise displays for Festival of the Arts! We then explored more of the festival gallery tents including a stand devoted to pop-up cards. We also looked at the festival merchandise which featured a lot of Figment! I love Figment, he is a classic! So I am very happy with all the fun Figment merchandise!
Stay tuned for part 2 of our journey at Festival of the Arts!
Now is the perfect time to start planning for the 2020 Epcot International Festival of the Arts! Our team here at Kingdom Magic Vacation is always ready to help you plan your next magical vacation to Walt Disney World or to any destination that you may be dreaming of next!