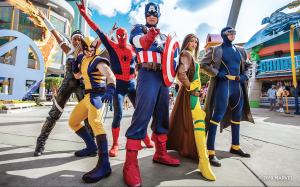 Are you a Marvel fan?! If so then you need to head over to Marvel Super Hero Island at Universal Orlando's Islands of Adventure park! Here you can grab a photo with Captain America, catapulte into the sky just like the Incredible Hulk, go web-slinging high above the streets with the Amazing Spider-Man, collect one of a kind Marvel souvenirs and more! All of this Marvel fun and more is in store for you in Marvel Super Hero Island at Universal Orlando's Islands of Adventure. Here are some great things to know as you prepare to get your epic adventure started!
Experiences: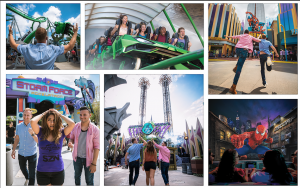 Have you always wondered what it would feel like to be a Marvel Super Hero?! Well it's your turn to experience the super hero experience first hand! Here are some of the amazing ride experiences available at Marvel Super Hero Island!
Feel the fury on The Incredible Hulk Coaster
Go web slinging high above the streets in 3-D with The Amazing Adventures of Spider-Man
Test your bravery on Doctor Doom's Fearfall
Harness the power on Storm Force Accelatron
Put your skills to the test at Kingpin's Arcade
Meet Your Favorite Marvel Characters: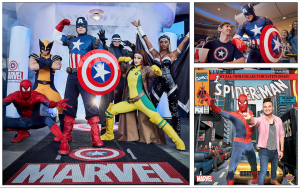 Everyone dreams of meeting their heros! Here at Marvel Super Hero Island you will have this amazing opportunity to meet some of your favorite Marvel characters such as Spider-Man, Captain America, Cyclops, Wolverine, Storm and Rogue, as well as Marvel Super Villains like Dr. Doom and The Green Goblin.
Here is a list of some of the Marvel Super Hero encounters available:
Meet Spider-Man and the Marvel® Super Heroes
Feast with Marvel's finest at the Marvel Character Dinner
Snap a photo with Spider-Man at the Marvel Alterniverse Store
Where to Eat: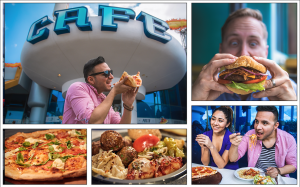 You will work up quite the appetite trying to keep up with the Marvel Super Heroes' lifestyle. Universal's Islands of Adventure has you covered! There are tons of places for you to get refueled with delicious food and beverage offerings including:
Feast with Marvel's Finest at the Marvel Character Dinner
Clobber your Super Hero sized appetite at Cafe 4
Vanquish your cravings at the Captain America Diner
Souvenirs to Bring Home: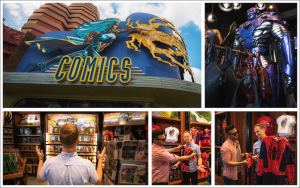 Whether you're looking to update your Super Hero size wardrobe, expand your collection of Marvel figurines or start your very own comic book collection, there's something for everyone and a whole lot more at Marvel Super Hero Island.
Marvel Alterniverse Store
Visit the Marvel Alterniverse Store to stock up your Super Hero closet with every manner of Marvel supplies! Items include character t-shirts, sweatshirts, toys, collectibles, mugs, and more!
TIP: Be sure to take a picture with Spider-Man. Not only do you get to meet and snap a photo with this famous web-slinger, but you also get your photo turned into the cover of a Marvel Comic issue of Spider-Man! Such a great keepsake!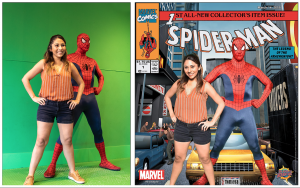 More Shops:
What kind of Marvel Super Hero Island would this be without a Comic Book Shop featuring all of your favorite Marvel characters, posters, apparel, figurines, and more!
Looking for a place to gear up for battle with super-stylish clothes and accessories featuring your favorite Marvel Super Heroes? Look no further than the Marvel Boutique.
Be sure to check out this Spider-Man Shop created just for fans and stacked with toys, action figures, mugs, t-shirts, and more.
There is so much to discover a Marvel Super Hero Island! Contact your Kingdom Magic Vacations Travel Planner today to plan your next visit to the Universal Orlando Resort or to whatever destination you are dreaming of next.