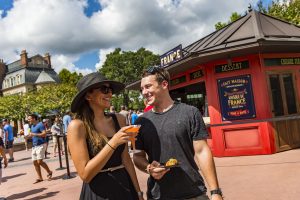 Walt Disney World is not just a great place for families it is also a great place for couples.  With so many things to do and places to go the ideas for a great date night and endless.  In Part 1 I will discuss two areas in Walt Disney World that I think have wonderful opportunities for a fantastic date night.  So let's get started!
Disney Springs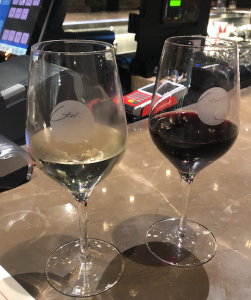 Disney Springs is a shopping, dining and entertainment mecca.  You will have a fantastic time if you pick Disney Springs for your date night.  There are just so many choices of things to do.  The great thing about this area is you can find something to fit your likes and your budget.  First, let's look at some things you can do for an Economic date night.  My picks for great places to eat that won't break the budget would be Wolfgang Puck Express, Deluxe Burger, Blaze Pizza or even the Food Trucks.  All of these choices have really good food at the great price.
For a special occasion date or when you just want to splurge a bit there any many choices to pick from.  Boathouse and Paddlefish have great seafood choices, Morimoto Asia is outstanding with cuisine from the great Iron Chef himself.  Try Chef Art Smith's Homecomin' for delicious Southern comfort foods.  Head to STK for a fantastic steak.  These are just some of my favorites, the list goes on and on. Your sure to find something you will love.
If you would like to hang out after dinner for a nice drink let me suggest two that I enjoy.  Jock Lindsey's Hangar Bar is inspired by the Indiana Jones movie and the theming and drinks are so good or stop by Wine Bar George for the most incredible wine list you will ever see.  I personally like to go to the 2nd floor and head out to the patio where you can relax with your drink and take in the sights of Disney Springs.
If you want a unique experience head to The Edison after 10:00 when it becomes adults only for a burlesque style show.  Or you can catch a movie at the AMC theater.  If you like to bowl you will want to check out Splitsville for some fun and try their sushi, it is excellent!  Then there is the obvious thing to do and that is to stroll from store to store checking out so many different shops!
Monorail Loop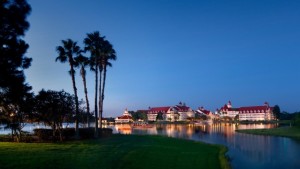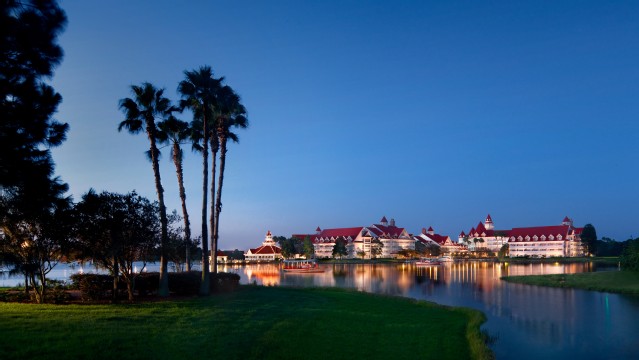 Okay, so what is the Monorail Loop?  This would be the stops the monorail makes besides the obvious stop at the Magic Kingdom.  The monorail stops at three Disney hotels, which are The Contemporary, The Polynesian and The Grand Floridian.  Looking for a great meal with a breathtaking view than you will want to head to the California Grill at The Contemporary.  This restaurant is at the top of the hotel with stunning views of Bay Lake and the Magic Kingdom and you won't want to miss the fireworks from this restaurant.  The fireworks view from the outside terraces are incredible and the music is pumped in for your enjoyment.  Head over to the Polynesian hotel for a tropical feel.  There are great restaurants and bars and the beach is a wonderful place to put your feet in the sand and watch the fireworks together, very romantic!  Head to Grand Floridian and enjoy the beautiful Victorian lobby while listening to the piano player or band.  For a very special occasion you might want to try Victoria & Albert's which is a AAA Five Diamond Award winning restaurant.  For something more economic you can't beat the Grand Floridan Café.
Hope you enjoyed part one of my Disney date night ideas.  To hear more about it check out our YouTube video below:
Contact your Kingdom Magic Vacation travel planner today so you can take your special someone on a magical date night!