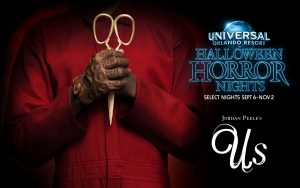 Get ready! Because this year at Universal Orlando's Halloween Horror Nights you can enter the startling reality of Academy Award-winning filmmaker Jordan Peele and Universal Pictures' global horror hit "Us".
In this new haunted house at Universal's Halloween Horror Nights, guests will venture inside the Wilson family beach house as well as roam down Santa Cruz Pier. Be warned, you just may find a familiar character outside the Fun House! On this fright-filled journey guests will also embark through the terrifying tunnels that stretch for miles deep below America. It is here that you will come face-to-face with "The Tethered" – a group of terrifying doppelgängers of every living man, woman and child in the country. You will soon discover that you are your own worst enemy!
Follow in the footsteps of Adelaide Wilson as she experiences a frighting and traumatizing encounter with her tethered double, Red. Guests will watch her face off with her menacing mirror image in a deadly dance with a fatal ending. As visitors journey deeper through this haunted house, they will be transported to modern-day, and witness "The Tethered" rise-up from their underground labyrinth, ready to take on their privileged upperworld counterparts – determined to enact their plan of murder and revenge. Get ready to run for your life, because there is no escaping yourself.
Halloween Horror Nights takes place this year at Universal Studios Florida on select nights from September 6 through November 2, 2019. This year you can experience 10 haunted houses, 5 scare zones, live entertainment and more! Contact your Kingdom Magic Vacations Travel Planner today for more details and to plan your next visit to the Universal Orlando Resort!