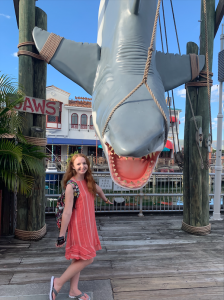 During our most recent company event a few weeks ago, our team enjoyed an incredible day of training and fun at the Universal Orlando Resort. We learned so much about the Universal Orlando destination and how this great product is an incredible vacation spot for everyone! Young, old, couples, families, groups of friends… there is something for everyone at the Universal Orlando Resort!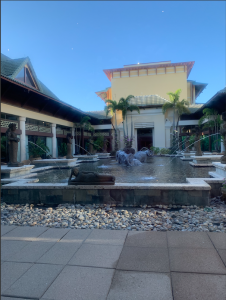 During our time at Universal Orlando Resort we got to tour several of the amazing onsite Universal hotels, tour Universal's Volcano Bay Water Theme Park and expand our knowledge of this great product through an educational seminar. After our exciting morning of learning many of our team members headed into the parks for a night of fun and getting to explore the incredible parks!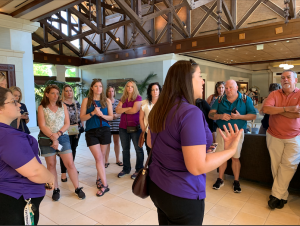 For me this was particularly very exciting because I had never been to the Universal Orlando Resort. I had been out to the West Coast park, Universal Studios Hollywood, but never to the Universal Orlando Resort! I had always seen so much about Universal Orlando in blogs and videos, so getting the opportunity to finally be there in person was unreal!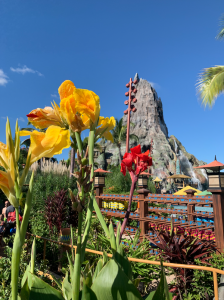 Our training was held at Universal's Lowes Portifino Bay Hotel. When we were ready to head to the park we got to utilize the Universal's water taxi service that is offered at many of Universal's onsite hotels such at Portifino Bay. I was very impressed with this incredible water taxi service. The boats take you directly from the resort to the end of Universal CityWalk. Here you will find the entrance gates to both Universal Studios and just a short walk down the way Universal's Islands of Adventure.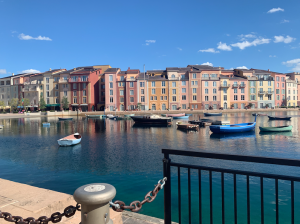 I loved taking the scenic water taxi ride! The views were beautiful! And I was at the park entrance in about 5 minutes! I was also so impressed with how frequently the boats run. There was a boat that was just pulling away as I walked up and the next boat was there in less than 10 minutes! Amazing!
The first thing I did once my water taxi pulled up to the CityWalk dock was head right into Universal Studios. This park closed at 5:00 on the particular day I was there in preparation for Universal's Halloween Horror Night – the specially ticketed Halloween event that takes place on select nights at Universal Studios. I had a park-to-park ticket so I knew I wanted to go to Universal Studios first to get in as much as I could there before it closed and then transfer over to Universal's Islands of Adventure park. I only had about an hour and a half in Universal Studios so I spent the time walking around and soaking in the amazing sights that I previously had just seen in pictures.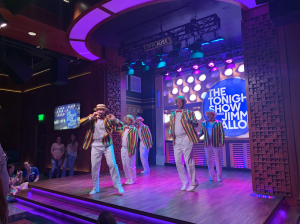 I also managed to squeeze in two rides. The first ride I experienced at Universal Studios was Race through New York starring Jimmy Fallon! This attraction was so fun and entertaining! It is a 3D simulator style ride where you explore the great city of New York and beyond through wacky antics! The second attraction I had time for was Men in Black! This attraction gives you a blaster and allows you to shoot at aliens and earn points! We had fun competing to see who got the highest score!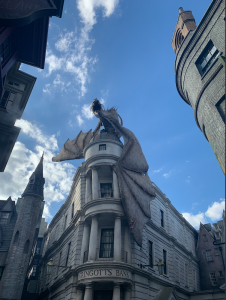 It was soon time to transfer over to Islands of Adventure! I loved this park. The theming was very unique, it felt like something out of a storybook!  The first thing we did was ride the Seuss Trolley Train. This was an experience I had seen before in photos and videos. It is an elevated train experience in the air that gives you a birds-eye view of the park. I loved riding this right at sunset, the views were beautiful!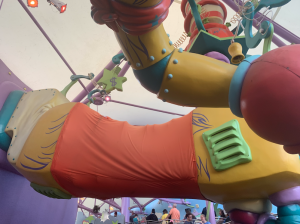 After taking in the adorable theming in Seuss Landing we headed straight for the Wizarding World of Harry Potter. I was so excited to finally get to ride this land's main attraction located inside the Hogwarts Castle, Harry Potter and the Forbidden Journey. The effects in this ride were so cool. You felt like you were really flying on a broomstick alongside Harry Potter!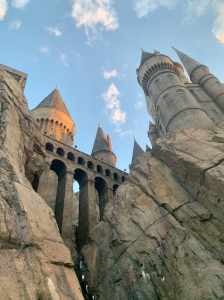 To cap off an amazing day I enjoyed the most iconic Harry Potter treat you can have… a butterbeer! These drinks are delicious! It's like a butterscotch soda! With a butterbeer in hand I enjoyed an evening stroll around Islands of Adventure right before park close, taking in the beautiful architecture and everything there was to see and do in this great park.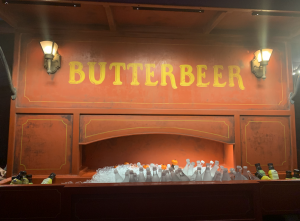 I am so excited to go back to the Universal Orlando Resort to get to experience more of what this amazing destination has to offer. Contact your Kingdom Magic Vacations Travel Planner today to plan your next vacation to the Universal Orlando Resort!