Soon guests visiting CityWalk at the Universal Orlando Resort will be able to enjoy Voodoo Doughnut! Voodoo Doughnut is a unique and creative doughnut shop. The shop is known for their artisan doughnut creations. The Voodoo Doughnut name has created a very large fan base! Many love their zany, fun and delicious creations. Flavors range from Glazed Old Fashioned, to Grape Ape, and even to the Bacon Maple Bar! With such a wide selection of treats to choose from everyone is sure to find a doughnut that they will enjoy! Voodoo Doughnut is home to more than 50 types of doughnuts! Let's take a look at a few of the delicious and unique doughnuts that you will be able to sample soon at Voodoo Doughnut!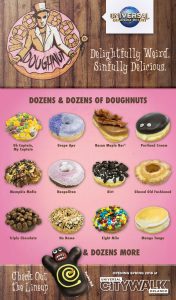 Voodoo Doll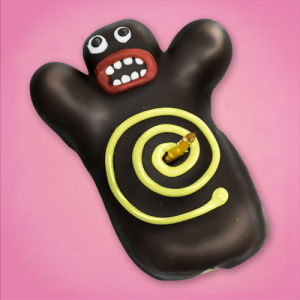 This doughnut is an icon for Voodoo Doughnut. The idea for this signature doughnut was invented before the first Voodoo Doughnut shop even opened! It took a while to find the right "doll pin." Once the doughnut artisans found the perfect pretzel, the rest was history and the Voodoo Doll doughnut became a popular symbol associated with the company. The Voodoo Doll is filled with raspberry jelly, covered with chocolate frosting and topped with a pretzel stake.
Portland Cream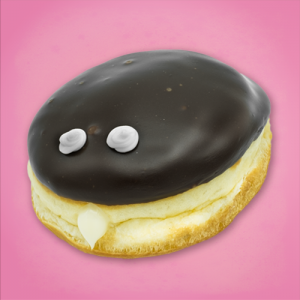 This creation is one of the first doughnuts that Voodoo Doughnut ever created. It is a tribute to the city of Portland, which is the city, home to the shop's first location. The Portland Cream is filled with Bavarian cream and topped with chocolate and two frosting eyeballs.
Grape Ape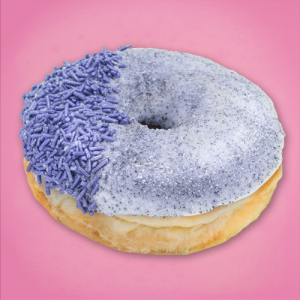 Can you believe this doughnut was almost cut from the original Voodoo menu, but after visitors try the Grape Ape, it quickly became a popular fan favorite! There are even fans who have gotten a tattoo in honor of the Grape Ape doughnut! The Grape Ape is a vanilla frosted doughnut covered with grape dust and lavender sprinkles.
Bacon Maple Bar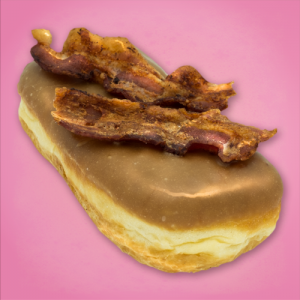 The Bacon Maple Bar is a doughnut coated with maple frosting and adorned with strips of bacon on top! If you love the sweet and savory mix then this is the doughnut for you!
Oh Captain, My Captain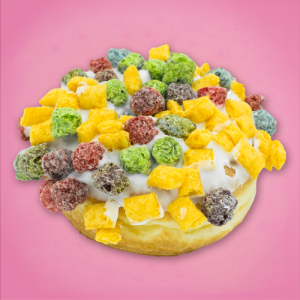 This one is the ultimate breakfast treat a doughnut covered in cereal! The Oh Captain, My Captain doughnut is coated with vanilla frosting and topped with that famous sweet and fruity breakfast cereal!
The list goes on and on! Like I said Voodoo Doughnut is home to over 50 creative doughnut concoctions! We can't wait to experience Voodoo Doughnut at the Universal Orlando Resort very soon! What creation are you most excited to try?!